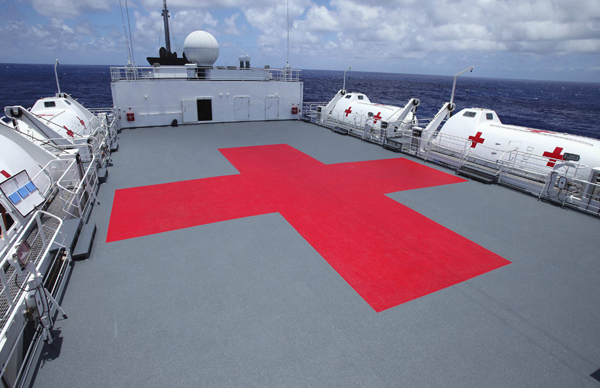 Life boats line the top deck of China's People's Liberation Army (PLA) ship Peace Ark during the multi-national military exercise RIMPAC in Honolulu, Hawaii, July 23, 2014. [Photo/Agencies]
SUVA - Peace Ark, a hospital ship of China's People's Liberation Army Navy will visit Fiji later this week to provide medical services to Fijians, the Chinese embassy said Monday.
Yang Zhaohui, charge d'affaire of the Chinese embassy said the visit will consolidate and strengthen the traditional friendship between China and South Pacific countries.
"The ship will provide humanitarian health services to the people and they will serve 400 outpatients each day during their visit," Yang said.
"Serving as a peace messenger, the Peace Ark embodies China's new security concept with peace, development and cooperation," he added.
The South Pacific trip of the ship, currently in Tonga, Fiji's neighbor country, includes Tonga, Fiji, Vanuatu, and Papua and New Guinea. The Chinese naval vessel is expected to arrive at the Fijian capital of Suva on Friday and stay for a week.
With a full-load displacement of over 14,000 tons, Peace Ark, commissioned in 2008, is equipped with some 300 beds, eight operating rooms, and more than 200 types of medical devices including CT, color ultrasonic, and automatic biochemistry analyzer.