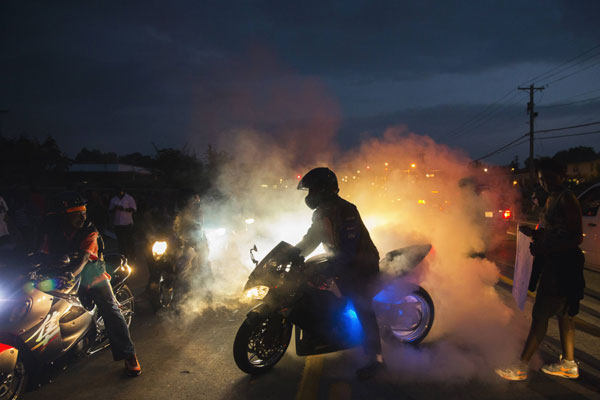 A man performs a "burn out" amongst protesters who are continuing to react to the shooting of Michael Brown in Ferguson, Missouri August 17, 2014.[Photo/Agencies]
FERGUSON, Mo. - Authorities on Sunday imposed a midnight curfew for the second night a row in the tense St. Louis suburb where an unarmed black teen was shot to death last week by police.
They blocked off at least one street to vehicle traffic before the sun even set. The move came as scores of protesters had already begun gathering along West Florissant Avenue in Ferguson, the site of ongoing protests as well as violence and looting since 18-year-old Michael Brown was shot to death on Aug. 9.
Officials plan to decide on a day-by-day basis whether to extend the curfew, imposed Saturday night by Missouri Governor Jay Nixon in an effort to quell protests and looting, Missouri Highway Patrol spokesman Justin Wheetley said.
US Attorney General Eric Holder earlier on Sunday ordered a federal autopsy of Brown's body, seeking to assure the family and community there will be a thorough investigation into a death that has sparked days of racially charged protests.
Eighteen-year-old Brown, who was black, was shot by white police officer Darren Wilson. The police department in the St. Louis suburb has come under strong criticism for both the death of an unarmed man and its handling of the aftermath.
The Highway Patrol captain charged with restoring order told hundreds of people gathered at a local church for a rally on Sunday that he was committed to protecting their right to protest.
"I'm sorry," Captain Ron Johnson, who is black, told Brown's family during remarks that prompted repeated standing ovations at the rally. "My heart is heavy."
Seven protesters were arrested early on Sunday after failing to disperse as the midnight-to-5 a.m. curfew went into effect. Police used canisters of smoke and later teargas to disperse the crowd, a Missouri State Highway Patrol spokesman said.
A person was shot and critically wounded during the night. The circumstances were not clear, and the shooter was still at large, police said. Johnson said police were unable to identify the victim, who he said was not shot by police.
Johnson also said someone had shot at a passing police car and was not apprehended.
The smoke and teargas canisters largely dispersed the crowd.
"It was the minimum amount of force that we could have used to get them moving," said Missouri State Highway Patrol spokesman Al Nothum.