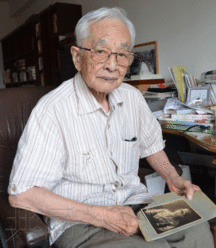 File photo of Tadakuma Iwai
Tadakuma Iwai, 91, who served as a kamikaze pilot in World War II and is now a professor at Japan's Ritsumeikan University said being a kamikaze pilot is not a noble thing.
In a report released by Kyoto News on Wednesday, Iwai said he realized that the moral principle of dying for one's country has no real meaning. The kamikaze team "served with no distinction in the war while many pilots lost their lives."
In 1943, Iwai joined the navy in Kanagawa Prefecture, Yokosuka, and 10 months later was sent to the torpedo boat traning center in Nagasaki County, famous for developing suicide torpedos.
In March 1945, he was sent for Ishigaki Island on a ship carrying the Japanese explosive motor boat Shinyo to prevent the US army landing in Okinawa. At that time pilots were taught to conduct suicide attacks on the US if necessary.
The Japanese ship was attacked by a US torpedo and only 45 of 187 kamikaze pilots were rescued.
Tadakuma went back to school after the war and studied modern history.