Peshmerga forces starting tomake gains against Islamic State
The Obama administration has begun directly providing weapons to Kurdish forces, who have started to make gains against Islamic militants in northern Iraq, senior US officials said Monday.
Previously, the US had insisted on selling arms only to the Iraqi government in Baghdad, but the Kurdish peshmerga fighters had been losing ground to Islamic State militants in recent weeks.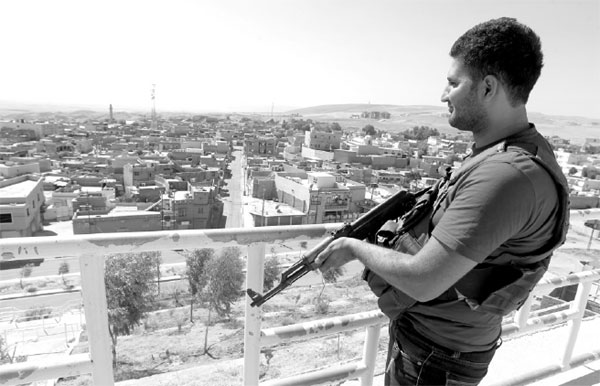 An Iraqi Yazidi fighter stands guard outside a shrine on Sunday in Sheikhan, northeast of the city of Mosul in northern Iraq and near the Kurdish city of Dohuk where Yazidis found refuge. Thousands of Yazidis, a Kurdish-speaking minority following an ancient faith rooted in Zoroastrianism, fled their homes a week ago when Islamic State militants attacked the town of Sinjar. Ahmad Al-Rubaye / AFP
The officials wouldn't say which US agency is providing the arms or what weapons are being sent, but one official said it isn't the Pentagon. The CIA has historically done similar quiet arming operations.
The officials spoke on condition of anonymity because they were not authorized to discuss the operation publicly.
The move to directly aid the Kurds underscores the level of US concern about the Islamic State militants' gains in the north, and reflects the persistent administration view that the Iraqis must take the necessary steps to solve their own security problems.
A senior State Department official would only say that the Kurds are "getting arms from various sources. They are being rearmed."
To bolster that effort, the administration is also very close to approving plans for the Pentagon to arm the Kurds, a senior official said. In recent days, the US military has been helping facilitate weapons deliveries from the Iraqis to the Kurds, providing logistic assistance and transportation to the north.
The additional assistance comes as Kurdish forces took back two towns from the Islamic insurgents on Sunday, aided in part by US airstrikes in the region. US President Barack Obama authorized the airstrikes to protect U.S. interests and personnel in the region, including at facilities in Irbil, as well as Yazidi refugees fleeing militants.
US Defense Secretary Chuck Hagel, speaking to reporters here, said the airstrikes "have been very effective from all the reports that we've received on the ground." He declined to detail how or when the US might expand its assistance to Iraq, or if military assessment teams currently in Baghdad would be moving to a more active role advising the Iraqi forces.
"We're going to continue to support the Iraqi security forces in every way that we can as they request assistance there," Hagel said.
(China Daily 08/12/2014 page11)