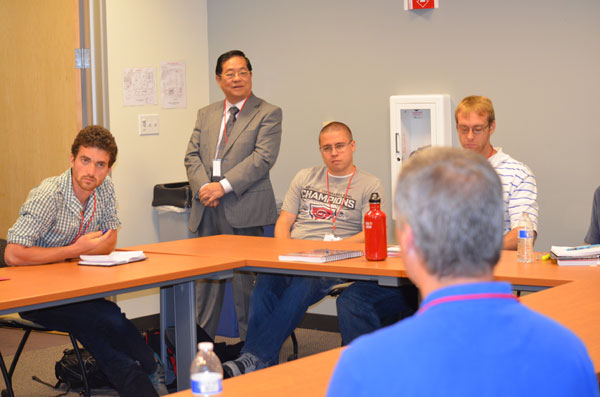 Yuan Nansheng (second from left), consul general of China at San Francisco, joins discussion with US middle school teachers on how to strengthen American students' recognition and understanding about China during the 2014 Teachers Workshop at Silicon Valley Community Foundation's San Mateo Conference Center in San Mateo, California on Monday. Lian zi / China Daily
What does China's growing global impact mean for US teachers and students? More than 70 educators from US high schools and middle schools got together in San Mateo on Monday to try and get a handle on it. The 2014 Teachers Workshop, hosted by the 1990 Institute, took place at the Silicon Valley Community Foundation conference center.
Yuan Nansheng, consul general of China in San Francisco, who attended the workshop, told China Daily that people, especially young students, from the two sides should strengthen their appreciation and understanding of one another's countries.
"It is good for building a new model of a major power relationship that is based on mutual respect and mutual benefit," he said.
The workshop's aim was to enhance teachers' knowledge of US-China issues and encourage them to commit a larger portion of their classroom time to lessons on China that are relevant, stimulating and consistent with Common Core State Standards.
China has changed dramatically since the 1980s, the teachers said, while US secondary school curricula have remained static for the three decades.
"This workshop is a nice way for US teachers and students to deepen their understanding of what the real China is, which is probably very different from the views of older generations," said Julia Maynard, a sixth-grade teacher who teaches Asian history in the San Francisco Bay Area.
During the morning session, academics and industry experts spoke on China's current economic and environmental challenges and their impact on US-China relations. Tomas Fingar, a distinguished fellow at Stanford University, stressed the importance of China's role in the world economy. "Anything multiplied by 1.3 billion is a big number. Numbers are very telling," he said, adding that the US will be better off when China gets stronger.
Fingar said the US' role in the US-China relationship should be supporting China's drive for development and modernization. "We should welcome China's participation on the global stage," he said.
The US government expects China to continue its involvement as it has been doing — following the rules, contributing to the world's economy and opening up to the international free trade system, Fingar said.
Gang He, a PhD candidate at UC-Berkeley, spoke about China's environmental challenges.
"Environmental problems are a growing source of social instability," Gang said. "China consumes more coal than all other countries combined."
The Chinese government has already focused on dealing with environmental issues with a 30-year plan that includes investment in developing clean energy, such as solar, wind and nuclear, he added.
Attendees of the workshop were selected based on a review of subjects taught and interest in China's impact through multi-disciplinary perspectives. A number of teacher teams were formed to develop specific China-related curricula.
The 1990 Institute is a non-profit organization dedicated to broadening understanding and building trust between the people of the US and China through education, philanthropy and collaboration.

zilian@chinadailyusa.com