It has been a 15-year pursuit for New York Congresswoman Carolyn Maloney, and now she is going to China to try to make it a reality — a giant panda for the Big Apple.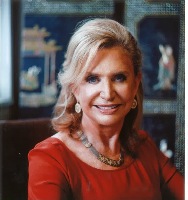 New York Congresswoman Carolyn Maloney 
"New York has had some tough times with 9/11 and Hurricane Sandy, so it's time to have some good luck," Maloney said in an interview with China Daily. "The panda is a symbol of good luck. We have everything in New York except for a panda. It's time to have a panda."
Maloney will leave on Sunday for a 7-to-10-day trip to China, visiting Shanghai, Beijing, Guiyang and the Chengdu Research Base of Giant Panda Breeding in Sichuan province.
"It would help attract tourists, and school children would love to see a panda," said Maloney. "New York is the center of everything — from Broadway to Wall Street — the only thing we're missing is a panda, and I hope to rectify that."
Giant pandas have not been in New York City since 1987 when the Bronx Zoo was lent two pandas, Ling Ling and Yun Yun, from the Beijing Zoo. The city has housed six pandas since the 1930s. If Maloney succeeds in getting a panda, then its home would be the Central Park Zoo, according to the New York Post.
There are only 12 pandas in zoos throughout the United States, including three pandas at the San Diego Zoo and three at the Smithsonian National Zoo in Washington.
Approximately 1,600 giant pandas are in the wild and there are about 300 at breeding centers and zoos, with the majority in China.
Christina Simmons, a spokeswoman for San Diego Zoo Global, a conservation organization that also runs the San Diego Zoo, said that the organization has spent millions of dollars on pandas in the wild and at their zoo. She also said that any US looking to receive a panda must contribute a lot of resources to conservation work in China.
"Zoos are conservation organizations and it's important for all of them to work with all endangered species," she said. "There are thousands of endangered species and pandas are just one of them."