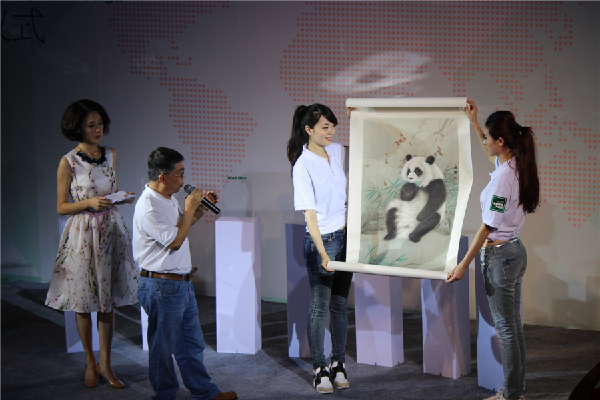 Wang Chi (second left), executive deputy curator of the Chengdu Museum of Modern Art, presents an image of Panda 51 by Chen Qiming, a local artist known for his panda painting. Photo by Huang Zhiling.
Government officials and consul generals from Singaporean, South Korean, Thai and Pakistani consulates general in Chengdu, Sichuan province, and local artists held a ceremony inviting people around the globe to submit color sketches of a giant panda.
"It is aimed at making colored drawings of Panda 51, the logo of the city of Chengdu, which is as famous as the Berlin Bear is for Berlin," said Zeng Min, deputy secretary-general of the Chengdu government.
Panda 51 was born at the Chengdu Research Base of Giant Panda Breeding in 1986 and thus named because of its low birth weight.
"It was the lightest panda in the world, with its weight accounting for only one-third that of a normal newborn cub," said Hou Rong, a researcher at the base.
Thanks to intensive care from researchers and keepers at the base, Panda 51 survived and is now a healthy adult.
At the ceremony, a representative of Ye Yushan, a 79-year-old sculptor, presented Ye's sketch of Panda 51, which people worldwide can apply to have sent and then color.
Chen Qiming, a middle-aged artist in Chengdu known for his panda paintings, donated his own colored drawing of Panda 51 to the organizing committee of the 2014 Chengdu Creativity and Design Week, to be held in October.
The Sichuan provincial government promotes growth in the creative and design service sectors and a shift from "Made in Chengdu" to "Created in Chengdu" with the design week.