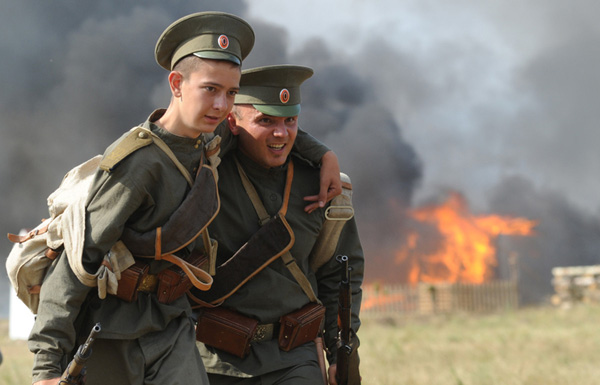 Actors dressed as Russian soldiers take part in the re-enactment of the 1914 Battle of Tannenberg in Szkotowo, Poland, Sunday, July 27, 2014, marking the 100th anniversary of the beginning of World War I. [Photo/IC]
SZKOTOWO - About 200 history enthusiasts from across Europe have gathered on a hilly area in Poland to reconstruct the Battle of Tannenberg, an engagement between the Russian and German Empires in the first days of World War I.
The reenactment was held Sunday, one day before the 100th anniversary of the start of the war. It was held on the site of the original battle, which a century ago was in eastern Prussia, but which now lies in northern Poland.
The battle took place from Aug 26-30, 1914, and resulted in a major defeat for Russia. The victorious German commander, Paul von Hindenburg, became a national hero, and was later Germany's president. The battle is also sometimes known as the second Battle of Tannenberg. The first took place in 1410.