Live: A Malaysian airliner was brought down in eastern Ukraine on Thursday, killing all 298 people aboard and sharply raising the stakes in a conflict between Kiev and pro-Moscow rebels that has set Russia and the West at daggers drawn.


Key points:
* Ukraine says Russian officers help rebels shoot down airliner with 295 aboard
* Ukrainian President Petro Poroshenko has described it as "an act of terrorism".
* U.S. VP Biden says it was "blown out of the sky"
* Rebels deny role, though have said recently they have such missiles
* Malaysia Airlines MH17 en route from Amsterdam to Kuala Lumpur
* Raises stakes in East-West confrontation over Ukraine















01:00pm

One Hong Kong resident was preliminarily confirmed aboard the crashed Malaysia Airlines MH17, said the Immigration Department of the Government of the Hong Kong Special Administrative Region on Friday.
A family member of the resident, a foreign passport holder, was also aboard the plane. The authorities will continue to work with relevant organizations for further information, said the department.

11:00am

Civil Aviation Administration of China (CAAC) on Friday ordered Chinese aircraft flying over Ukraine to avoid eastern Ukraine airspace following the crash of a Malaysia Airlines plane in that region. (Xinhua)

10:50am

UK security expert says the Russia-Ukraine conflict is no longer a regional dispute, but one of global significance stretching all the way to East Asia.
"(The conflict) called into question the judgment and behavior of Russia and Ukraine and also other European governments, the European Union and NATO," said Paul Cornish, professor of Strategic Studies at The University of Exeter's Strategy and Security Institute. >>
10:10 am

Germany's Allianz SE is the lead hull and liability reinsurer covering the Malaysian airliner MH -17, Bloomberg reported, citing an email from Allianz.
London-based insurance broker Aon Plc valued the aircraft at about $97.3 million, Bloomberg said.

09:32am
Australian Prime Minister Tony Abbott said on Friday it appeared that "Russian-backed rebels" were behind the shooting down of a Malaysia Airlines passenger jetliner MH17.
"This is a grim day for our country and it's a grim day for our world. Malaysian airlines MH17 has been shot down over the eastern Ukraine, it seems by Russian-backed rebels," he said. (Reuters)


09:21am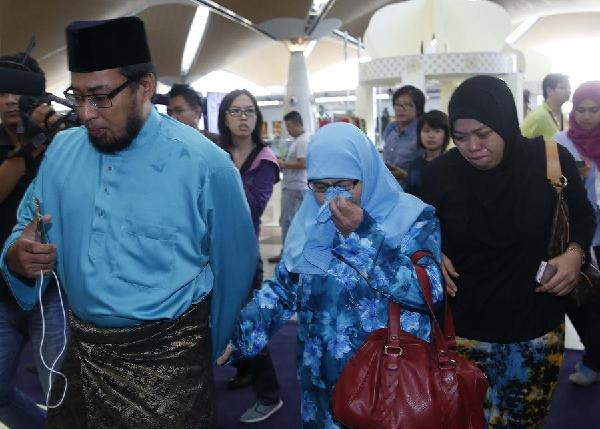 Relatives of passengers onboard the downed Malaysia Airlines flight MH-17 arrive at Kuala Lumpur International Airport in Sepang July 18, 2014. [Photo/Agencies]


9:15am


Three infants were on board Flight 17, raising the death toll to 298 people(283 passengers &15 crew), Malaysia Airlines says.
The nationalities of 41 passengers are yet to be confirmed.
Malaysia Airlines statement said:
154 passengers were Dutch
43 people on the flight were Malaysian

27 aboard were Australian
12 were Indonesian
9 were British
4 were German
4 were Belgian
3 were Filipino
1 was Canadian
9:12 am
Some of the passengers on board the Malaysian Airlines MH17 flight that has crashed over Ukraine were headed to the 20th International AIDS Conference in Melbourne, Australia, Reuters reported.
9:02 am
The White House called for the crash site to be left intact. US President Barack Obama called Netherlands Prime Minister about Malaysian plane crash, saying US would support "prompt, full, credible, and unimpeded international investigation."
8:55 am
Malaysia airlines MH17 crash: 80 children feared dead in Ukraine shooting down of Boeing 777
8:41 am
Pro-Russian separatists shot down the plane :Ukraine (BBC)


8:05 am
Malaysia Airlines said on Friday the flight route taken by an airliner that came down in Ukraine had been declared safe by the U.N. aviation arm, the International Civil Aviation Organisation.
It also said the International Air Transportation Association "had stated that the airspace the aircraft was traversing was not subject to restrictions".
The airline said the plane was carrying a total 298 people, including three infants - 283 passengers and 15 crew. It earlier said it had been carrying 295 people.
7:45 am
BBC: 298 people were on board
7:15 am
German Chancellor Angela Merkel and Foreign Minister Frank-Walter Steinmeier on Thursday called for an independent, international investigation into the downing of a Malaysian airliner over eastern Ukraine.
6:50 am
The U.N. Security Council will hold an emergency meeting on the situation in Ukraine at 10 a.m. EDT (1400 GMT) on Friday, diplomats said.
U.N. political affairs chief Jeffrey Feltman was expected to brief the council, said Rwanda's U.N. mission, president of the council for July. The meeting was requested by Britain.
6:40 am
IATA:We extend our deepest sympathies to the families and friends of the passengers and crew of MH17. Based on the information currently available it is believed that the airspace that the aircraft was traversing was not subject to restrictions.