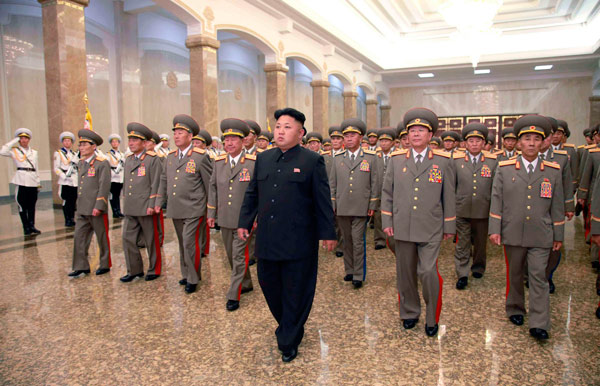 DPRK leader Kim Jong-un (center) visits the Kumsusan Palace of the Sun at midnight on Tuesday on the occasion of the 20th anniversary of the demise of DPRK President Kim Il-sung. [Photo/Agencies]
Commemorative meeting calls on entire country to unite around current leadership
The leader of the Democratic People's Republic of Korea, Kim Jong-un, presided over an official memorial meeting in Pyongyang on Tuesday to mark the 20th anniversary of the death of the nation's founder, Kim Il-sung.
The meeting, broadcast live on DPRK television, began as Kim walked into a vast conference hall packed with thousands of party and military officials who rose to applaud the young leader.
Kim appeared to be limping slightly as he walked to his seat, and the cameras cut away as he left the memorial, which lasted a little more than 30 minutes. He did not address the meeting.
It was not immediately clear how Kim developed the limp. State media showed the 30-year-old leader conducting extensive on-the-spot military guidance visits on the east and west coasts in recent weeks.
The leadership podium was set against a backdrop of a red flag surrounding a giant portrait of a smiling Kim Il-sung.
The main eulogy was read by Kim Yong-nam, president of the Presidium of the DPRK Supreme People's Assembly — the country's highest legislative body — who hailed Kim Il-sung as the "greatest leader in human history"and offered a long list of his accomplishments, punctuated by lengthy and regular applause.
"Thanks to the powerful army created by the great leader Kim Il-sung, we have successfully overcome all challenges,"he said.
Kim Yong-nam also called for the entire country to "unite under the respected leadership"of Kim Jong-un to build a prosperous future.
Kim Il-sung led the country from its establishment in 1948 until his death on July 8, 1994.
He was succeeded by his son, Kim Jong-il, who ruled until his death in December 2011, when power was transferred to his son and the current leader, Kim Jong-un.
Kim Jong-un bears a striking physical resemblance to his grandfather, which he has underlined with his style of dress and haircut.
In another development, a court in the Republic of Korea sentenced the head of a traditional dance troupe on Tuesday to four years in prison after he was convicted of passing information to a DPRK spy.
The Seoul Central District Court ruled that Jeon Shik-yeol, 44, had violated the national security law banning ROK citizens from making unauthorized contacts with citizens of the DPRK.