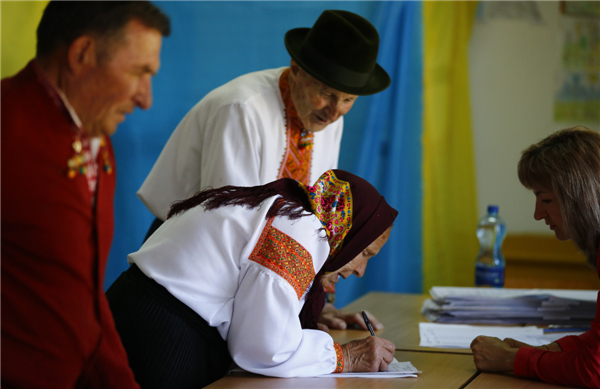 People queue to receive their ballot papers during voting in a presidential election at polling station in the village of Kosmach in the Ivano-Frankivsk region of western Ukraine May 25, 2014. Ukrainians were set to give a resounding endorsement to the overthrow of their last elected leader by voting on Sunday for presidential candidates promising close ties with the West in defiance of Russia's Vladimir Putin. [Photo/Agencies]
KIEV -- Ukrainians began voting on Sunday morning to elect a new president for the next five years in the country's early elections amid heightened security measures.
More than 35.5 million Ukrainian eligible voters are expected to cast their ballots in the election, which began at 8:00 am. local time (0500 GMT). The polling stations would close at 8 pm. (1700 GMT).
The government has deployed around 55,700 police officers and 20,000 volunteers to guarantee public order at the 34,000 polling stations across the country.
Outside the No.588 polling station of the 219 electoral district, three security guards with machine guns came one hour before the start of voting.
"We are here to make sure the vote will be carried on safely and smoothly," one of the security guards said.
"Everything is prepared orderly, now we are going to see the development of the vote," said NATO observer Deroon, who only gave his surname.
Extra security measures have been taken in the country's eastern Donetsk and Lugansk regions, which have been plunged into chaos following anti-government protests.
During the vote, which is widely expected to put an end to the crisis in Ukraine, a total of 21 candidates are competing for the presidency, with former Prime Minister Yulia Tymoshenko and businessman Petro Poroshenko emerging as front runners.
If no candidate wins over 50 percent of the vote, a run-off will be held on June 15.
Some 3,500 international observers, including diplomats from the Organization for Security and Cooperation in Europe (OSCE) and representatives of 19 foreign countries, will monitor the vote.
The early election was called three months after former President Viktor Yanukovych was forced out of office in February and fled to Russia soon afterwards.