Thailand's military convened crisis talks on Wednesday between warring political rivals, vowing to stop the kingdom from degenerating into another Ukraine or Egypt after imposing martial law to suppress months of bloody protests.
US-led pressure grew for a return to civilian control, but the Thai military, which has intervened repeatedly in politics in the past decades, said it would respect international law and use force "only for issues of security".
Television footage showed army chief General Prayut Chan-Ocha chairing the meeting in Bangkok on Wednesday afternoon.
It was to include top officials of the ruling and opposition parties and of the election commission and Senate, as well as the heads of the pro- and anti-government protest camps.
Caretaker Prime Minister Niwattumrong Boonsongpaisan, who replaced Yingluck Shinawatra after a controversial court ruling ousted her this month, was invited but did not attend because he was busy with other matters, a government official said, declining to elaborate.
Five top government ministers took his place.
Niwattumrong has called for fresh elections on Aug 3. But the opposition wants vaguely defined reforms first to tackle graft and has vowed to stay on the streets until it has eradicated what it calls the "regime" of Yingluck's exiled elder brother, Thaksin Shinawatra.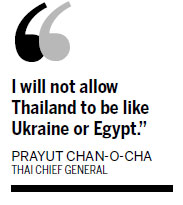 Prayut invoked martial law on Tuesday, saying that he had to act because political tensions have spiraled following extended and deadly anti-government protests - a move critics branded a de facto coup.
"This must be resolved swiftly before I retire, otherwise I won't retire," Prayut, who is due to step down at the end of September, said on Tuesday, according to a transcript of remarks released by the military.
"I will not allow Thailand to be like Ukraine or Egypt."
The military intervened after nearly seven months of protests that have left 28 people dead and hundreds wounded.
In a new sign of its weakening hold on power, the caretaker cabinet was barred from using its emergency headquarters at a Defense Ministry office in the north of the capital.
"The government is now using a safe house," Prayut said.
Around Bangkok there was little sign of tension, and most soldiers that had occupied key intersections in the capital a day earlier had withdrawn.
Across the country, people went about their work normally. Students went to school, and the usual tourist droves crowded luxury resorts, relaxing on white sand beaches unfazed by the crisis. But Tuesday's dispatch of armed troops to the streets, the shutdown of more than a dozen television stations and the sweeping powers assumed by the military have raised concerns about the future of democracy.
The military can now ban public gatherings, restrict people's movements, conduct searches, impose curfews and detain suspects for up to seven days.
Late on Tuesday four more satellite television stations were ordered to suspend broadcasts, bringing the number of those shut down to 14.
Social media and other websites were instructed not to distribute "provocative" material or criticism of martial law.
The military also issued an order that appeared to ban media outlets from interviewing anyone other than current government or military officials.
AFP-AP