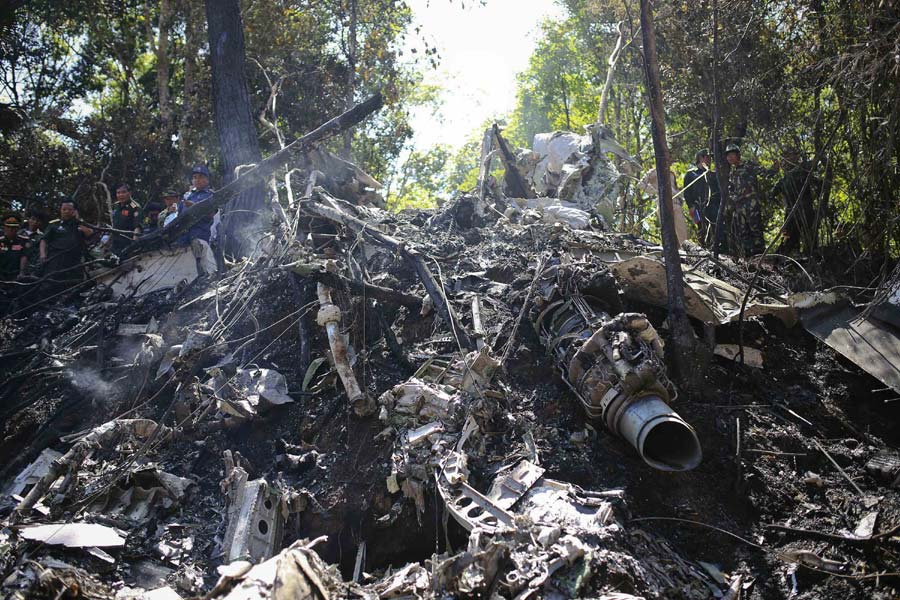 Rescue workers search an air force plane crash site near Nadee village, in Xiang Khouang province in the north of the country May 17, 2014.[Photo/Agencies]
BANGKOK - A military plane carrying senior Lao government officials crashed Saturday in a wooded area as it approached an airport in the country's northeast, killing at least five people, including the defense minister and other high-ranking members of the country's ruling party.
Lao National Television showed video of the mangled wreckage of the plane, with smoke rising from its badly charred remains. The footage showed rescuers pulling away pieces of aircraft debris and trying to dig through the remaining fuselage with shovels, as medical crews stood by watching.
About 18 people were believed to be on board the plane, which left Vientiane, Laos' capital, early Saturday morning to bring the group to an official ceremony in Xiangkhoung province, about 470 kilometers (290 miles) away, said Thai Foreign Ministry spokesman Sek Wannamethee. Earlier reports had said about 20 people were on board.
The Ukrainian-made Antonov AN-74TK-300 crashed in Xiangkhoung's Pek district, where authorities were ``helping to rescue the survivors,'' according to Lao state news agency KPL, which cited an announcement from the Prime Minister's Office. The brief official statement did not say how many people had died in the crash or survived.
Among those confirmed killed were Defense Minister Douangchay Phichit and his wife, said Nipat Thonglek, the Thai Defense Ministry's permanent secretary.
Douangchay was also one of Laos' deputy prime ministers and a high-ranking member of its Politburo, the main decision-making body for the nation's Lao People's Revolutionary Party.