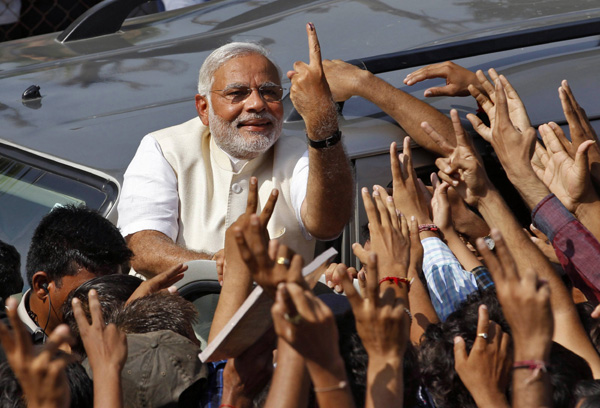 Hindu nationalist Narendra Modi, the prime ministerial candidate for India's main opposition Bharatiya Janata Party (BJP), shows his ink-marked finger to his supporters after casting his vote at a polling station during the seventh phase of India's general election in the western Indian city of Ahmedabad in this April 30, 2014 file photo. [Photo/Agencies]
NEW DELHI - Opposition candidate Narendra Modi will be the next prime minister of India, with counting trends showing the pro-business Hindu nationalist and his party headed for the most resounding election victory the country has seen in thirty years.
Modi's landslide win was welcomed with a thundering rally on India's stock markets and jubilant celebrations at offices across the country of his Bharatiya Janata Party (BJP), where supporters danced, exploded fireworks and handed out sweets.
"Trends indicate it is a landslide," said party president Rajnath Singh in a message on Twitter.
The alliance led by the BJP, and possibly the party alone, was headed for a majority in parliament, giving Modi the most decisive mandate for any leader since the 1984 assassination of prime minister Indira Gandhi propelled her son to office.
Unlike his predecessors, Modi will not have to deal with unruly coalition partners as he implements reform. That could usher in profound economic changes, and he will try to replicate his success in attracting investment and building infrastructure in Gujarat, the state he has governed for 12 years.
"He can afford to have a smaller but stronger cabinet, that means a far more decisive government. He has been saying less government and more governance, we are really likely to see that," said Navneet Munot, Chief Investment Officer at SBI Funds management in Mumbai.
But with India's economy suffering its worst slowdown since the 1980s and battling high inflation, it will not be an easy task to meet the hopes of millions of Indians who have bought into the idea that Modi will quickly push their country onto the top table of global economic powers.
"People will not give him much time to deliver," said Neerja Chowdhury, a political analyst and a former political editor of the Indian Express newspaper. "On the economic reform agenda, I think he will move very quickly ... he's a doer and he's very focused."