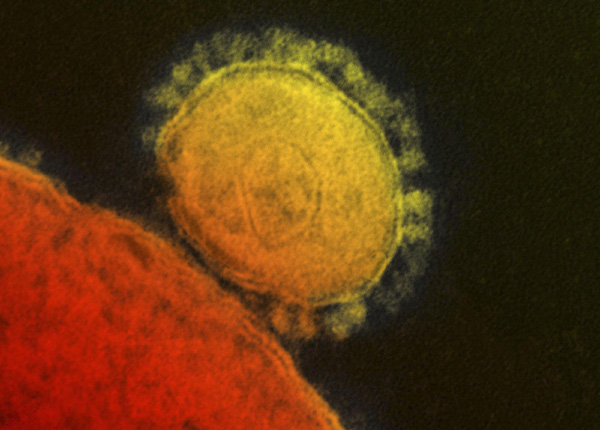 The Middle East respiratory syndrome coronavirus is seen in an undated transmission electron micrograph from the National Institute for Allergy and Infectious Diseases. Niaid via Reuters
Saudi Arabia said that 10 more people infected with Middle East Respiratory Syndrome had died over the last two days and identified 20 new cases of the virus, pushing the total number of infections in the country to 511.
Five of the deaths were reported on Tuesday and five on Wednesday, according to statements on the Health Ministry's website.
They took the death toll in Saudi Arabia to 157 since MERS, a coronavirus similar to Severe Acute Respiratory Syndrome, was identified two years ago.
Of the 16 new cases identified on Wednesday, two had died. Of the four cases identified on Tuesday, one had died, the ministry said.
SARS killed around 800 people worldwide after emerging in China in 2002. It can cause coughing, fever and pneumonia, and there is no vaccine or anti-viral treatment against it.
The rate of infection in Saudi Arabia has surged in recent weeks after big outbreaks associated with hospitals in Jeddah and Riyadh. The total number of infections nearly doubled in April and has risen by a further 25 percent already in May.
The recent upsurge is of particular concern because of the influx of pilgrims from around the world expected in July during the Muslim fasting month of Ramadan.
Scientists around the world have been searching for the animal source, or reservoir, of MERS virus infections ever since the first human cases were confirmed in September 2012.
The spread of the puzzling respiratory virus in the Middle East and beyond doesn't yet constitute a global health emergency despite a recent spike in cases, the World Health Organization said on Wednesday.
The decision was made after a meeting of WHO experts on MERS.
The vast majority of cases have been in Saudi Arabia, although the disease has spread within the region and to Asia, North Africa, Europe and the United States.
MERS often starts with flu-like symptoms but can lead to pneumonia, breathing problems and in severe cases, kidney failure and death.
"Calling a global emergency in a world which has a lot of urgent issues going on is a major act," Dr Keiji Fukuda, an assistant director-general of the WHO, told reporters on Wednesday. "You have to have really solid information to say this is a global emergency."
Fukuda said there wasn't yet proof of the virus' sustained transmission among people.
Last week the WHO did declare the world's widening polio outbreaks to be an international health emergency.
Reuters-AP