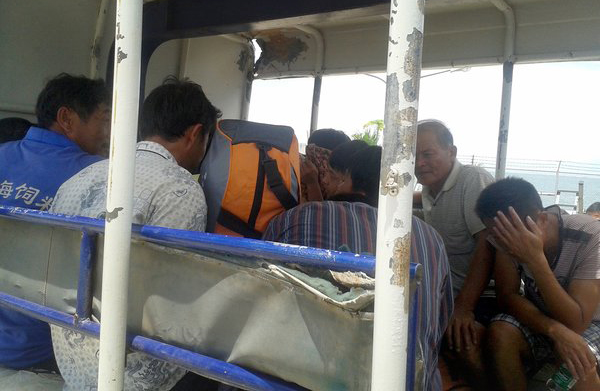 In this photo taken May 8, 2014, 11 crew members of a Chinese-flagged fishing vessel are transported by truck to the town of Taytay on the western Philippine island of Palawan. They were arrested by Philippine police off China's Half Moon Shoal in the South China Sea on May 6, 2014.[Photo/CFP]
MANILA -- Nine out of the 11 Chinese fishermen arrested by local police last Tuesday near China's Half Moon Shoal in the South China Sea were formally charged by the Palawan Regional Trial Court in western Philippines on Monday.
Palawan Province Prosecutor Allen Ross Rodriguez said the charges were filed following inquest proceedings which pushed through despite the fishermen's refusal to be represented by a counsel.
Rodriguez, however, dismissed the charges against the other two Chinese fishermen as they were said to be minors.
The inquest was supposed to be conducted last Friday but was deferred as the fishermen have no lawyer and interpreter yet.
The Philippine Department of Justice explained that the Chinese fishermen refused to be represented by public attorneys being provided to them during the hearing.
The 11 Chinese fishermen aboard fishing boat Qiongqionghai 09063 were seized by the Philippine police while fishing in waters off China's Half Moon Shoal on May 6.
China's Foreign Ministry on Wednesday urged the Philippines to "immediately" release detained fishermen and their boat.
However, the Philippine side ignored China's demand and took the 11 Chinese fishermen to Puerto Princesa in Palawan, claiming they were found poaching endangered species in Philippine waters.