Thailand's Constitutional Court said it will rule on an abuse-of-power case against Prime Minister Yingluck Shinawatra on Wednesday, with a guilty verdict likely to force her from office and possibly bring her supporters to the streets.
That could lead to a confrontation with anti-government groups who have been protesting in Bangkok for six months in a bid to topple Yingluck and who disrupted a general election in February that she had been expected to win.
The crisis broadly pits Bangkok's middle class and royalist establishment against the mainly poor, rural supporters of Yingluck and her brother, ex-premier Thaksin Shinawatra, who was ousted by the military in 2006 and now lives in exile to avoid a jail term handed down in 2008 for abuse of power.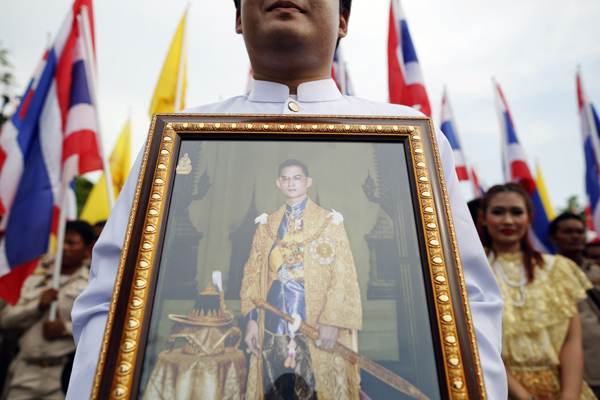 A well-wisher holds a picture of Thailand's King Bhumibol Adulyadej as he joins anti-government protesters gathering outside the Grand Palace on Coronation Day in Bangkok on Monday. Damir Sagolj / Reuters
The premier appeared at the court to deny the allegation, which was filed by a group of senators who said that then-national security chief Thawil Pliensri was replaced after Yingluck's 2011 election for the benefit of her Puea Thai Party and a family member.
She said the decision to transfer the security chief was made by a committee of ministers.
"I did not interfere in the decision process ... which should be for the benefit of the land," Yingluck told the court. "I have never benefited from any transfer of civil servants."
Some legal experts say her entire government will have to go if she is forced to step down, but her party rejects that. She has led a caretaker administration with limited powers since dissolving Parliament in December ahead of the election.
"We believe the Cabinet must continue its caretaker duties until a new Cabinet replaces it. There is no reason why the whole Cabinet should go with her," said Noppadon Pattama, a legal adviser to Thaksin.
"That would be like carrying out a double execution."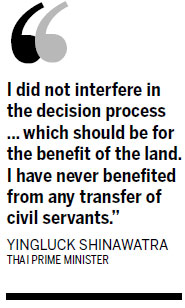 The months of street protests have undermined Yingluck's government, but she has clung to power and the number of protesters has dwindled.
However, tension is rising again as she faces a series of court cases to be heard by what her supporters say is a politicized judiciary.
Both her "Red Shirt" supporters and the anti-government protesters plan large rallies in or around Bangkok next week.
Yingluck's ouster would be the latest twist in nearly a decade of confrontation between supporters of Thaksin and the Bangkok-based royalist establishment who see Thaksin, a former telecom tycoon, as a threat to their interests, accusing him of corruption and nepotism.
Security chief Thawil was replaced by then-national police chief Wichien Podposri, whose position was later given to Priewpan Damapong, a brother-in-law of Thaksin.
Thawil was reinstated in March, but the Constitutional Court accepted the abuse-of-power case brought against Yingluck by 27 senators.
Among other charges Yingluck faces is dereliction of duty over a state rice-buying plan that critics say is riddled with corruption and has run up huge losses.
This charge was brought by the National Anti-Corruption Commission, which is expected to deliver its ruling this month. A guilty verdict here would also force Yingluck from office and she could, in addition, face a five-year ban from politics.
Reuters-AFP