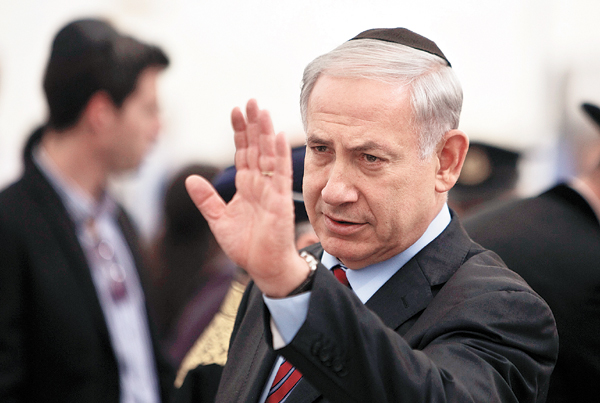 Israel's Prime Minister Benjamin Netanyahu arrives at a ceremony marking Memorial Day in Jerusalem on Sunday, when Israel commemorates its fallen soldiers. Nir Elias / Reuters
Israel's Prime Minister Benjamin Netanyahu moved on Sunday to defend his plans to enshrine in law Israel's status as the national homeland for the Jewish people.
Speaking at the weekly Cabinet meeting, Netanyahu said the aim was to "anchor" in law Israel's status and ensure it would remain a Jewish state following any peace deal with the Palestinians.
"There are those who do not want Israel to be defined as the national homeland for the Jewish people," he said in remarks broadcast on public radio.
"They want a Palestinian national homeland to be established here next to us, and that Israel be gradually turned into a bi-national Jewish-Arab state within our reduced borders," he told ministers in a reference to Israel's Arab minority, who account for just over 20 percent of the population.
Netanyahu and others in the right-wing camp have long expressed fears that following the establishment of a Palestinian state, Israel's Arab citizens would seek to press their own claims for territory in the northern Galilee and southern Negev regions.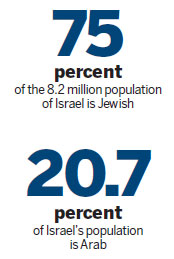 "You cannot say we want to break away from the Palestinians to prevent a bi-national state - something which has a certain logic - and at the same time give your blessing to a bi-national, Jewish-Arab state within Israel's permanent borders," he said.
"Israel gives full equal rights to all of its citizens, but it is the national homeland of just one people - the Jewish people."
Throughout the most recent round of peace talks, which ended on April 29 with the sides bitterly at odds, Netanyahu demanded such recognition from the Palestinians, insisting it was a core issue of the conflict.
The Palestinians have refused.
For them, accepting Israel as a Jewish state would mean accepting the Nakba, or "catastrophe", that befell them when 760,000 of their people fled or were forced out of their homes in the war that accompanied Israel's establishment in 1948.
Israel's Arab minority are the descendants of the 160,000 Palestinians who remained on their land after 1948.
According to figures published ahead of Israel's Independence Day, which began at sundown on Monday, Israel's population stands at 8.2 million, the Central Bureau of Statistics said.
Of that figure, 75 percent, or 6,135,000 people, are Jewish, and 20.7 percent, or 1,694,000 people, are Arab Israelis.