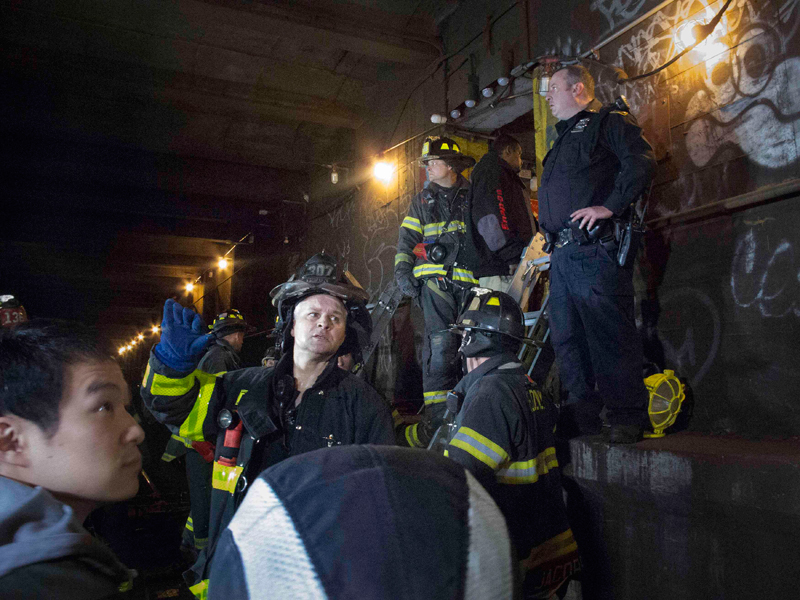 Firefighters and rescue officials assist passengers escape from the derailed "F" train through a subway tunnel emergency exit in the Woodside neighborhood located in the Queens borough of New York May 2, 2014. [Photo/Agencies]
NEW YORK - Nineteen people were injured after a subway train derailed Friday in Queens, one of New York City's five boroughs, said a source with the Metropolitan Transportation Authority (MTA), the service provider.
MTA Chairman and CEO Thomas Prendergast pledged a thorough investigation into the cause of the derailment, which also had about 1,000 passengers trapped underground for almost two hours.
The derailment occurred at 10:24 am, when six of the eight-car Manhattan and Brooklyn-bound F Subway Line Icon train went off the track. The wheels of the first and last cars remained on the track.
The accident led to temporary disruption in both directions of four subway lines connecting Queens and Manhattan, the heart of New York City.
New York City Fire Department and Police Department personnel rushed to help evacuate the trapped straphangers through an emergency exit.
Related: Seoul subway crash hurts 200