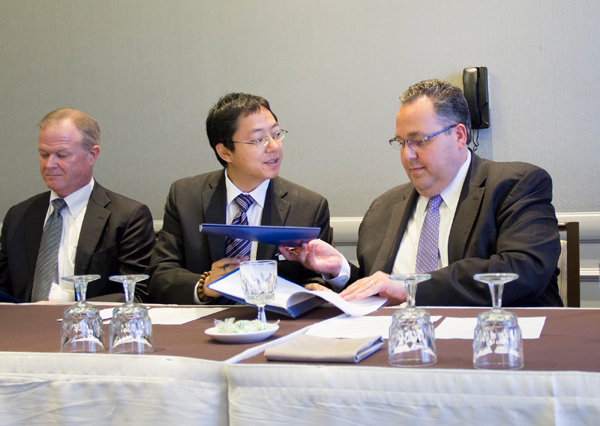 Cameron Miao (center), Air China's sales manager in Houston, signs an MOU with Jorge Franz (right), vice-president of international sales and tourism of the greater Houston convention and visitors bureau. At left is Air China account manager Ned Gizinski.
Less than a month after increasing its Houston-Beijing direct flight schedule to a daily affair, Air China signed a memorandum of understanding (MOU) with the Greater Houston Convention and Visitors Bureau (GHCVB), the Galleria, the Westin Galleria Hotel and Texas TaxFree Shopping on Monday in Houston to jointly boost Houston tourism and Air China ticket sales.
The program, called Air China Boarding Pass Extension Program and Shopping, started on Monday and will last for six months, according to Cameron Miao, Air China's sales manager in Houston.
"Visitors on our flights will get a special package including special discounts from the Galleria by presenting their boarding pass, and only Air China's passengers will enjoy such privileges," Miao said. Passengers who stay at the Westin Galleria Hotel will also enjoy extra amenities.
Jorge Franz, GHCVB's vice-president of international sales and tourism, explained why Houston is courting the Chinese visitors with a shopping focus."Chinese visitors coming to Houston like to visit the Space Center, try authentic Texas-style food, experience the rodeo and ranch. But most of all, they love shopping. They do shopping more than any other international travelers," Franz said.
"The data show that the average Chinese traveler spends $2,745 per person per trip, this brings about a $138 million economic impact to Houston," said Franz. "The average Chinese visitors, when visiting the US, go to multiple cities with an average of 35-night stay. There is a new term created for Chinese travelers: 'biz leisure' travelers, because they schedule business and pleasure at the same time."
To Franz, $138 million is a smaller number compared to the overall picture of Houston's tourism, but Chinese travelers spend five times more than average American travelers. Also, with Air China's opening direct flight here in Houston, more Chinese shoppers are showing up at the Galleria Mall - the top notch and largest mall in Houston. "Some stores are hiring Chinese speaking personnel to accommodate them," said Franz.
Rebecca Brunell, assistant director of marketing at the Galleria, said that with 2.4 million square feet of space, the mall is the fourth-largest indoor mall in the nation, with more than 400 retail stores, an ice-skating arena, restaurants and two hotels.
Another draw for Houston to promote itself to Chinese shoppers is that Texas is one of the few states in the US to offer tax-free shopping to foreigners.
Shannon Welch, marketing manager of Texas TaxFree Shopping explained that by presenting traveling documents (passport, visa and ticket itinerary), original receipt and original packaged merchandise, shoppers can get 8.25 percent tax refund on merchandise that will leave the US with shoppers within 30 days of purchase.
Air China's account manager Ned Gizinski said this program will be very actively promoted through their own websites and distribution channels in China.
"The return will be, first more awareness of Houston as a destination in general, and more specifically for Air China the incremental revenue from passengers flying out of China through Houston,"Gizinski said.
Franz said GHCVB will visit China to promote the program. Miao emphasized that this is only the first travel program presented by Air China and more will follow.
mayzhou@chinadailyusa.com