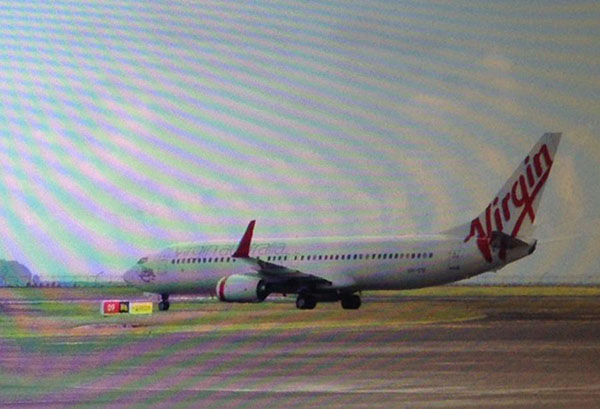 A Virgin Australia lands in Bali, Indonesia after the pilot reported a hijacking attempt as a passenger tried to enter the cockpit, April 25, 2014. An airline official said there had not been a hijack attempt and the passenger, a 28-year-old man, was drunk. [Photo/Xinhua]
The pilot of a Virgin Australia plane flying from Brisbane to the Indonesian holiday island of Bali on Friday reported a hijacking attempt after a passenger tried to enter the cockpit, an Indonesian transport official said.
A Virgin Australia Airlines official said there had not been an attempt to hijack the aircraft but a "flight emergency" after a 28-year-old male passenger who was drunk had banged on the door of the cockpit trying to get in.
"There was a drunk passenger, intoxicated and aggressively behaved. He was trying to enter the cockpit, banging the door but he did not enter the cockpit," Heru Sudjatmiko, airport manager for Virgin Australia in Bali, told Indonesia's Metro TV.
Crew members seized the passenger, who authorities identified as Matt Christopher from Australia, and handcuffed him.
An hour before landing in Bali, the pilot alerted traffic controllers of a possible hijacking onboard, an Indonesian air force spokesman said.
Police arrested the man shortly after the plane landed in Bali.
The 137 passengers and six crew members were unharmed and were taken off the aircraft at Denpasar, in Bali, the air force spokesman said.
"The suspect is being interrogated by police in Bali," said Suhardi Alius, a police official in Jakarta.
Airport operations in Bali have returned to normal, an airport official said.
Virgin Blue Airlines, also known as Virgin Australia, is the country's second largest airline. Started in 2000 with just two planes, it expanded to serve 29 cities in Australia and destinations in New Zealand as well as Bali in Indonesia, Phuket in Thailand, Abu Dhabi in the UAE and Los Angeles within a decade.