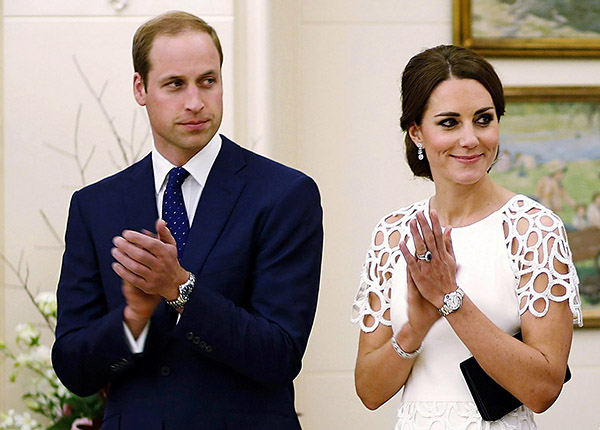 Britain's Prince William and his wife Catherine, Duchess of Cambridge, attend a reception hosted by the Governor General Peter Cosgrove and Lady Cosgrove at Government House in Canberra April 24, 2014. Prince William and his wife are undertaking a 19-day official visit to New Zealand and Australia with their son, Prince George. [Photo/Agencies]
LONDON - Kate's dilemma: What to pack for a two-week trip, when your itinerary includes everything from state receptions and church services to toddler playdates and cricket games?
For the Duchess of Cambridge, who's rounding up her trip to Australia and New Zealand with husband Prince William and 8-month-old son George, there were additional sartorial dilemmas: Do royals take off their shoes at the beach? And what's the most ladylike way to climb into a fighter jet while in a pencil dress and high heels?
Here are the most talked-about fashion moments from Kate's Down Under tour.
ALL GROWN UP
Over the past two weeks, Kate, 32, delighted fashionistas with a non-stop parade of stately suit dresses by top designers mixed with her favorite style staples: Blazers, wedges, simple court shoes and demure day frocks.
Hems have crept below the knee, dresses are less figure-hugging, and sleeves also covered more of her arms.
It's a wardrobe that's markedly more "grown up" and more regal than before, royal watchers say. There's also much more color - bold, traffic-stopping hues - a choice that reflects her growing confidence, both as the face of a new generation of the British monarchy and as a style icon for women all over the world.
Among the hits: A minimalist dove-grey coat with structured shoulders by Alexander McQueen, worn with a matching hat to attend an Easter Sunday service.
"Kate's Australian wardrobe choices has refined her take on regal chic, upping the polish and bringing a more ladylike and expensive sheen to her look," said Katherine Ormerod, fashion editor at Grazia magazine.