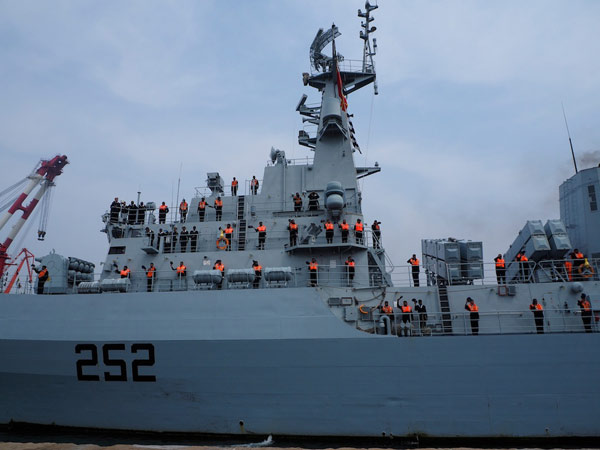 Pakistan Navy ship Shamsheer [Photo by Yi Pengxuan]
The Pakistan Navy's ship Shamsheer has arrived at the Qingdao port in China on Sunday, April 20. The ship has been invited by the Chinese side to take part in the Multilateral Maritime Exercise (MME) being hosted by China and participated by other countries as well. The ship would join several other countries and as many ships in the two-day exercise.
Senior Colonel of the Chinese PLA Navy Wu Dongzhu received Commanding Officer Capt. Rashed Zafar Cheema during an impressive welcoming ceremony held on the jetty at the harbor to mark the ship's arrival.
Captain Zafar described the latest port call as a manifestation of the ongoing collaboration between the two countries. He noted that Pakistan Navy will continue to play its role in contributing to its government's resolve for peace and stability in the region.
The ship had set sail from Karachi, Pakistan for Qingdao on 21st March, this year making subsequent port calls on Maldives (Male), Malaysia (Port Kalang) and Brunei (Bander Seri Begawan) prior to arriving at the Qingdao port. It is destined to visit Singapore and Sri lanka while completing its round trip back to Pakistan.
Pakistan Navy Ship PNS Shamsheer, the second ship of Sword Class F-22 P Frigates was built in China and was commissioned by Pakistan Navy more than four years ago. The frigate's name 'Shamsheer', meaning sword, symbolizes valour and the ship has the capability of undertaking multifarious operations at sea.
Qingdao is a seaport on the Yellow sea in the vicinity of the city of Qingdao city, in east China's Shandong Province and one of the busiest ports in the world. The multilateral exercise coincident with the 65th anniversary of China's People's Liberation Army (PLA) Navy, will also feature the Western Pacific Naval Symposium 2014 set to discuss cooperative initiatives to address regional and global maritime issues.
Shamsheer will host deck reception on 22nd April hosted by Pakistan's Chief of Naval Staff Admiral M Asif Sandila NI (M).