Russian leader urges Washington to respect other nations' interests
Russian President Vladimir Putin said on Thursday that trust between Russia and the United States had been damaged before the crisis in Ukraine, but that he wanted to restore their cooperation.
"To a certain extent trust has been lost, but we do not think we are to blame," Putin said in a televised phone-in with the nation.
He said it was US hypocrisy that had brought relations to their worst level since the Cold War: "The United States can act in Yugoslavia, Iraq, Afghanistan and Libya, but Russia is not allowed to defend its interests."
The two countries have been at odds over a range of issues, from US missile defense plans to NATO expansion and the civil war in Syria. To improve ties, Putin said, the US should respect others' interests and international law.
"I want to emphasize once again, Russia is interested in growing relations with the United States and will do everything to ensure that this confidence is restored," he said.
The US has imposed sanctions against some Russians to punish Moscow for the annexation of Crimea from Ukraine, and says it is ready to adopt harsher measures if Russia intervenes further to destabilize Ukraine.
Putin also accused NATO Secretary General Anders Fogh Rasmussen, in his previous role as Danish prime minister, of secretly taping and leaking a private conversation between them to the press.
"I could not believe my eyes and ears.... What kind of trust can there be after such incidents?" he said.
NATO said Putin's allegation was "complete nonsense".
"During his term in office as Danish prime minister, Mr. Fogh Rasmussen never brought a dictaphone to record meetings with Mr. Putin or anybody else," NATO spokeswoman Oana Lungescu said in response to a query from Reuters.
Putin expressed hope for a political and diplomatic solution of the worst East-West crisis since the Cold War, saying he hopes that he won't have to send Russian troops into eastern Ukraine, which has been engulfed by violent protests against the new authorities in Kiev.
At the same time, he recognized for the first time that soldiers in unmarked uniforms who entered Ukraine's Black Sea region of Crimea laying the ground for its annexation by Moscow last month were Russian troops.
Putin said the Russian soldiers' presence was necessary to protect the local population from armed radicals and to ensure the holding of a referendum, in which an overwhelming majority of its residents voted to secede from Ukraine and join Russia.
"Our servicemen stood behind the back of Crimea's self-defense forces," Putin said. "They acted politely, but resolutely and professionally. There was no other way to hold the referendum in an open, honest and honorable way and allow the people to express their opinion."
He said part of the motive behind the annexation of Crimea was the need to counter what he said was NATO's intention to make Ukraine a member and sharply limit Russia's presence in the Black Sea region.
Putin insisted that protests in eastern Ukraine only involve locals.
He denounced the Ukrainian authorities' decision to use the military to uproot the protests in the east as a "grave crime", adding that he told his Western counterparts urging him to help disarm protesters in the east that the Ukrainian government should first pull the army back.
"They are sending tanks, armored personnel carriers and cannons there!" he said. "Have they gone nuts?"
He expressed hope for the success of Thursday's talks in Geneva that bring together the United States, the European Union, Russia and Ukraine for the first time since the Ukrainian crisis erupted.
"I think the start of today's talks is very important, as it's very important now to think together about how to overcome this situation and offer a real dialogue to the people," Putin said.
Putin repeated his argument that regions in eastern Ukraine historically had been part of the Russian empire and called Novorossiya before they were handed over to Ukraine in the 1920s.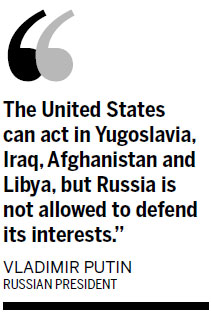 "God knows why," he said.
But he also seemed to keep the door open for Russia to recognize Ukraine's presidential election set for May 25, softening his previous demand that it must be postponed until the fall and preceded by a referendum on broader powers for the regions.
He added that the primary goal is to ensure that people in the east should be offered clear guarantees of the protection of their rights.
He also took a video question from National Security Agency leaker Edward Snowden, to whom Russia granted asylum last year.
Asked by Snowden about Russia's surveillance programs, Putin said that Russian special services also tap communications in their fight against terrorism, but don't do it on such a massive scale as the US.
Iron Curtain
Putin also said on Thursday that Russia would not seek to cut itself off from the outside world with a Soviet-style Iron Curtain.
"The Iron Curtain is a Soviet invention," Putin said. "We have no intention of closing off our country and our society from anyone."
When asked whether he would be willing to remain president for life, Putin said: "No."
Reuters-AP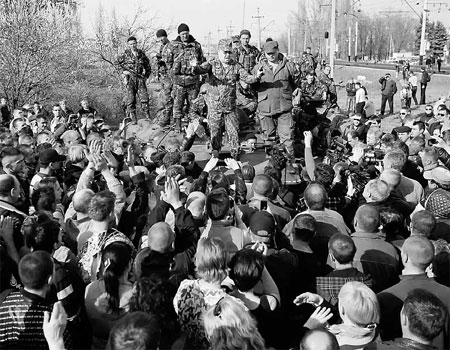 Ukrainian soldiers try to negotiate with pro-Russian protesters in Kramatorsk, eastern Ukraine, on Wednesday. The soldiers were allowed to retreat only after they handed the magazines from their rifles to a rebel commander. Marko Djurica / Reuters
(China Daily 04/18/2014 page11)