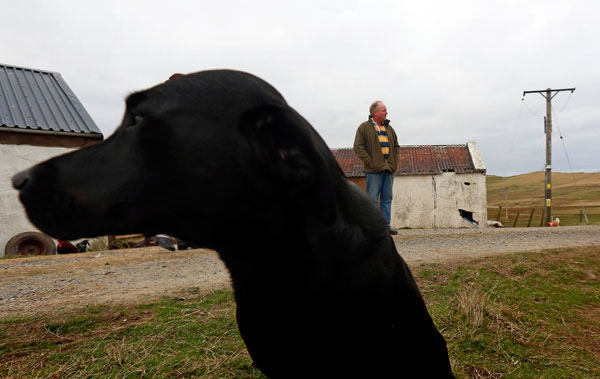 Ian Tomkinson, 57, poses for a photograph beside his house near the village of Sandness on the Shetland Islands April 1, 2014. Tomkinson plans to vote no in the upcoming independence vote as "we're being asked to vote for something for which we've really no idea what the outcome will be." Twelve hours by ferry from the Scottish mainland, hundreds of miles from Edinburgh and closer to Oslo than London, the windswept Shetland islands have their own aspirations about Scottish independence. Some of the 23,000 inhabitants even want their own. Many Shetlanders see the Sept 18 vote on whether Scotland should end the 307-year-old union with England as an opportunity to gain control over local services and a share of revenues from the oil pumped from the North Sea. Picture taken April 1, 2014. [Photo/Agencies]
LONDON - British Armed Forces Minister Mark Francois said Wednesday that Scotland's role in the British collective security is vital, calling for a "new era" for defense in Scotland as part of Britain, the British Ministry of Defense (MoD) announced Wednesday.
The British Government "has reconfirmed its unstinting commitment to Scotland, and its unshakable conviction that Scotland's contribution to the collective security of the United Kingdom is absolutely vital," Francois said, while addressing a group of British Royal Air Force (RAF) personnel.
"Against the doubt and uncertainty of the separatist proposition, the case for remaining part of the family of nations of the UK is clear," he added.
Urging Scotland to remain in Britain, the minister noted that "we are safer and stronger together."
"That is why, at a time when we have had to make reductions in the overall size of our forces to bring the defense budget back into balance, military numbers in Scotland are set to increase from 11,000 regular personnel to 12,500 by 2020," Francois explained.
Francois's remarks echoed similar arguments by Britain's First Sea Lord and professional head of the Royal Navy George Zambellas on Tuesday.
Writing in an article published by The Daily Telegraph, Zambellas warned that Scottish independence would "fundamentally change maritime security for all of us in the United Kingdom and damage the very heart of the capabilities" of the British maritime forces.
With only five months to go before the Scottish independence referendum on September 18 this year, London and Edinburgh have been wrangling to win supporters for their respective agendas over Scotland's future.
The Scottish government has been campaigning for Scotland's independence which it says can create a "more democratic, more prosperous and fairer" society for Scotland.
British Prime Minister David Cameron and Scottish First Minister Alex Salmond signed the Edinburgh Agreement in October 2012 to allow Scotland to hold the independence referendum this year.