Vladimir Putin looks likely to go down in history as the Russian leader who won back Crimea, but he is fighting to avoid also being remembered as the man who let Ukraine escape from Moscow's sphere of influence.
The next six weeks will be decisive in that battle as Ukraine prepares to elect a president on May 25, agree to a new constitution and prevent pro-Russian separatists in the nation's east from breaking away.
Reclaiming Crimea 60 years after it was given to Ukraine, at the time a part of the Soviet Union, by then-Soviet leader Nikita Khrushchev has been a domestic triumph for Putin. But losing the ability to exert influence over Ukraine would be a high price to pay for that victory, and might, with time, seriously detract from the achievement.
Even though Ukraine and Russia ceased to be in the same country when the Soviet Union unraveled in 1991, economic, political and cultural links remained strong, and Moscow retained a lot of political and economic influence in Kiev.
"Putin is now looking for a model where Moscow retains some degree of influence," said Gleb Pavlovsky, a former Kremlin spin doctor.
"I think the next six weeks will be key because Putin can't afford to let the Ukrainian election produce an unacceptable formula for Russia, and he can't afford to look indecisive.
"He needs a quick solution."
Yet at first glance, Putin does not look to have an urgent problem. His ratings have risen to their highest in years since Russian forces took over Crimea and Moscow annexed the peninsula after a hastily arranged referendum among its 2 million people.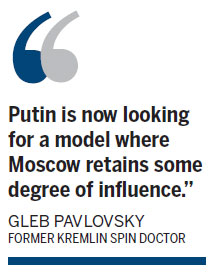 Moscow's political and business elites rallied behind Putin as the West imposed sanctions over what its leaders called an illegal redrawing of borders that revived Cold War-era tension.
Putin signed Crimea's annexation last month after setting out dreams of a greater Russia in a speech greeted by cheers in the Kremlin. His vision of repairing the breakup of the Soviet Union would bring the "near abroad" back under Moscow's wing.
The show of unity behind the Russian president is likely to continue for some time, and the political opposition in Moscow has for now been neutralized by Putin's success in Crimea.
Signs of unease
But business and political sources say there is growing unease beneath the surface as the euphoria fades and the harsh reality sets in of Western sanctions - and the prospect of more if Russia does not cooperate with the West.
With Russia's economic growth stuttering almost to a halt and capital flight rising to nearly $64 billion in the first three months of this year, there is plenty of cause for concern about taking on the financial burden of propping up Crimea - a region long on pensioners and faded Black Sea resorts.
Some business leaders and government officials are also worried by the war of words with the West, a threat of a return to Soviet-era isolation after two decades of building relations with richer states, and even hostility abroad toward wealthy Russians and their children studying at foreign institutions.
"There are people who are disorientated. They won't say this in public, but there is a split over whether what is happening is good for the country," said a Russian businessman in Moscow with liberal political views who did not want to be identified.