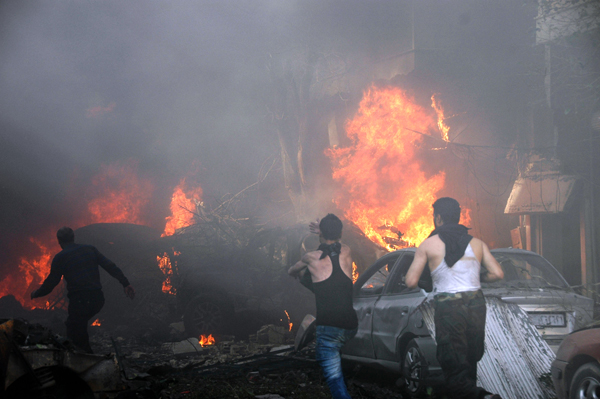 Flames engulf vehicles following a car bomb along al-Khudary Street in the Karm al-Loz neighborhood in the central Syrian city of Homs on Wednesday. [Provided by Agence France-Presse]
Two car bombs killed at least 25 people, including women and children, in a government-held neighborhood of Syria's central city of Homs on Wednesday, state news agency SANA reported.
Another 100 people were wounded in Karam al-Luz, in attacks that SANA blamed on "terrorists", the government's term for people fighting to overthrow President Bashar al-Assad.
"Twenty-five people fell as martyrs, including women and children, and more than 107 others were wounded after the explosion of the two car bombs" a half-hour apart, SANA said.
The Syrian Observatory for Human Rights said the bombings killed 21 people in a mostly Alawite neighborhood, referring to the Shiite Muslim offshoot sect to which the Assad family belongs.
Videos posted online by activists showed destroyed shop fronts and people panicking and running in all directions as rescuers struggled to extinguish a fire.
Syria's uprising began as a series of peaceful protests against the Assad family's four-decade rule but escalated into a full-scale insurgency after the regime launched a devastating crackdown on dissent.
More than 150,000 people have been killed since the revolt began in March 2011, and 9 million have been driven from their homes, including 2.6 million international refugees.
Homs was an epicenter of the revolt but is now almost entirely in government hands, with small pockets of rebels holding out in besieged areas in and around the devastated Old City.
Earlier on Wednesday, troops fighting in the Qalamun region seized the town of Rankus, tightening their grip on the strategic region along the Lebanese border.
"Units of the Syrian army have now accomplished their operation in the Rankus area and restored security and stability after eliminating a large number of terrorists," state media said.
The Syrian Observatory for Human Rights, a British monitoring group, had earlier said that "the army entered the area and is engaged in fierce fighting and heavy shelling".
The Observatory, which has a network of sources in Syria, said 28 rebels had been killed in the Qalamun area as well as in Eastern Ghouta, in Damascus province, in fighting between Tuesday and Wednesday.