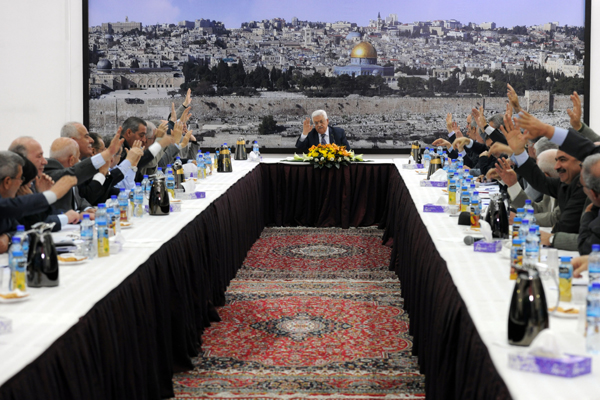 Palestinian President Mahmoud Abbas votes on a motion during a leadership meeting in Ramallah on Tuesday. In a dramatic move that could derail eight months of US peace efforts, Abbas resumed a Palestinian bid for further UN recognition. Provided by Xinhua
Israel seeks Palestinian pledge on talks before releasing long-serving prisoners
The Palestinian leadership announced on Tuesday that it would sign more than a dozen international conventions, including the Geneva Conventions, giving it greater leverage against Israel and leaving the United States struggling to put peace talks back on track.
President Mahmoud Abbas made the announcement on Tuesday in a meeting of senior officials of the Palestine Liberation Organization.
US Secretary of State John Kerry canceled a planned visit on Wednesday to the de facto Palestinian capital, Ramallah.
"My team is on the ground meeting with the parties even tonight. We urge both sides to show restraint while we work with them," Kerry said in Brussels, where he was attending a ministerial meeting of NATO.
"The important thing is to keep the process moving and find a way to see whether the parties are prepared to move forward. In the end this is up to the parties," he added.
The US-backed talks, which are nearing their scheduled end after starting in July, veered toward crisis on Saturday when Israel did not follow through on the promised release of a group of over two dozen long-serving Palestinian prisoners.
Israel said it wanted a pledge from the Palestinian leadership that the talks, which have not made any obvious progress, would be extended before the detainees were freed.
Stronger appeal sought
The Palestinians balked and said Israel's reneging on the release freed them from a commitment they had made to the US last year not to confront Israel at the United Nations and other international bodies.
The agreements signed on Tuesday, officials said, included the Geneva Conventions - the key text of international law on the conduct of war and occupation.
According to the Al-Jazeera news website, the Palestinian Authority was also seeking to join treaties and protocols on human rights and the rights of women and children, as well as conventions on anti-corruption and consular relations.
Palestinians hope signing the Geneva Conventions will give them a stronger basis to appeal to the International Criminal Court and eventually lodge formal complaints against Israel for its continued occupation of lands seized in the 1967 war.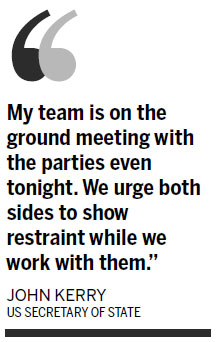 A major nod from the UN came in November 2012, when the General Assembly voted by an overwhelming majority to give non-member observer status to a Palestinian state in the West Bank, Gaza and east Jerusalem - lands Israel occupied in 1967 - overriding Israeli and US objections.
Palestinian officials have said that vote paved the way for Palestine to join 63 international institutions, conventions and treaties. A Palestine Liberation Organization statement quoted Abbas as saying on Tuesday that the 15 letters he signed were for conventions and treaties that can be joined immediately.
George Giacaman, a political science professor at Birzeit University in the West Bank, said Abbas wanted "to show that he's serious - and not just he, but the entire PA (Palestinian Authority) - and the PLO must be taken seriously."
However, law professor Robbie Sabel, a former legal adviser to the Israeli Foreign Ministry, described Abbas' signature on the conventions as "merely symbolic", noting he had stopped short of any new application for membership in international organizations.
Describing the move as a response to Israel's own violation of pledges it made to carry on the talks, Palestinian officials held out hope that it would not scupper the process entirely.
"I don't see that the Palestinians had anything else to do. What are they expected to do? They waited one day, two days, and there was no sign (of a prisoner release)," top negotiator Mohammed Shtayyeh told Reuters.
"Going to some UN agencies does not mean it is stopping the process, but we need a serious partner, ... for us it's a matter of dignity, Palestinian dignity," he added.
Meanwhile, the settlement watchdog group Peace Now reported on Wednesday that Israel was pushing forward with plans to build more than 700 homes in a Jewish enclave of east Jerusalem. The development adds another obstacle to the already stumbling Israel-Palestine talks.
Reuters-AP