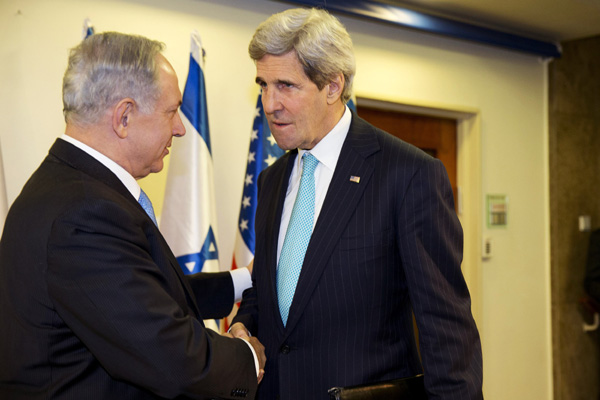 Israeli Prime Minister Benjamin Netanyahu (L) meets with US Secretary of State John Kerry as they meet in Jerusalem March 31, 2014. [Photo/Agencies]
JERUSALEM - US Secretary of State John Kerry met late Monday night with Israeli Prime Minister Benjamin Netanyahu in Jerusalem in a last ditch effort to save the deteriorating peace talks.
Kerry landed earlier on Monday evening in an unplanned visit in Israel amid a crisis over the issue of Palestinian prisoners' release, a disagreement which may bring the talks to a complete halt.
Israel delayed the planned release of a group of 26 Palestinian prisoners, scheduled to take place last Saturday, over the right-wing ministers' refusal to include Israeli Arabs citizens as part of the deal.
A high-ranking Palestinian delegation headed on Monday night to Jerusalem to meet with Kerry after a scheduled meeting with President Mahmoud Abbas in Ramallah was called off, a senior Palestinian official said.
The Palestinian delegation, including chief negotiator Saeb Erekat and head of the Palestinian security intelligence Majed Farraj, headed to Jerusalem to meet with Kerry after the latter held a meeting with Israeli Prime Minister Benjamin Netanyahu, the official said on condition of anonymity.
According to the Ha'aretz daily, Kerry conveyed to Netanyahu a message that the US may release incarcerated American-Israeli spy Jonathan Pollard, who has been incarcerated over espionage charges since 1987, in exchange for Israel agreeing to release 14 Israeli-Arab prisoners.
"There is a possibility that the release of spy Jonathan Pollard will come as part of the deal being worked out right now," a senior official told the daily.
Netanyahu and Kerry have met for more than three hours, with their meeting ending around 11:30 pm local time (21:30 GMT), a source at the embassy told Xinhua. Kerry was expected to visit Ramallah and meet with Palestinian President Mahmoud Abbas but the meeting has been apparently postponed to Tuesday morning.
Israel and the Palestinian Authority resumed peace talks after a three year halt last July. Amid the renewal of the talks, the Israeli government agreed to release 104 Palestinian prisoners. It has released 78 thus far.