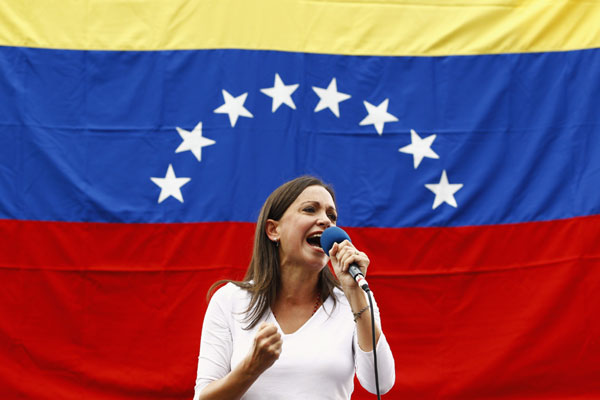 Opposition deputy Maria Corina Machado speaks during a rally against Nicolas Maduro's government in Caracas March 3, 2014.[Photo/Agencies]
CARACAS - Venezuela's Congress on Tuesday requested a criminal investigation of opposition deputy Maria Corina Machado for crimes including treason in relation to her involvement in anti-government protests that have left dozens dead.
Machado, a 46-year-old engineer, has been one of the most visible leaders in six weeks of opposition demonstrations against socialist President Nicolas Maduro that have unleashed the country's worst unrest in a decade.
Ruling Socialist Party legislators, who hold a majority of the seats, voted to ask the state prosecutor to investigate Machado for offenses that range from damaging buildings to inciting civil war.
"We will not permit impunity. We will ensure revenge for those deaths. We will ensure these deaths will be paid for," said legislator Tania Diaz of the ruling Socialist Party. "Anyone who violates the right to life is violating the constitution."
The move comes a month after the arrest of opposition leader Leopoldo Lopez, who along with Machado launched a national movement at the start of the year under the banner "The Exit" that is meant to help end 15 years of socialist rule.
Tuesday's theatrical session included a slick video of Machado's anti-government activism of the last decade that highlighted her links to the United States, the Venezuelan government's ideological adversary.
Machado sat stone-faced as legislators rattled off accusations, with some legislators chanting "Justice, justice."
"I'm convinced that this attack against me is the product of a regime that's terrified by an unprecedented citizens' movement," Machado said in a defiant press conference on Tuesday night, vowing the opposition would keep up protests.
"They are determined to break us, and we are determined to win our freedom," she said, calling Maduro a dictator.
OPPOSITION HARDLINER
She cannot be tried without approval from both the state prosecutor and the Supreme Court, and another assembly vote as to whether she should be stripped of her parliamentary immunity, according to a constitutional lawyer consulted by Reuters.
Decisions by the courts and the state prosecutors' office have frequently been in line with the Socialist Party, meaning the process could take place quickly.
Machado helped turned sporadic student demonstrations in the western Andes region that began in January into a nationwide protest movement that has included both peaceful marches and violent melees between hooded youths and anti-riot troops.
She has urged demonstrators to stay in the streets to protest inflation of 57 percent, chronic product shortages and one of the world's highest rates of violent crime.