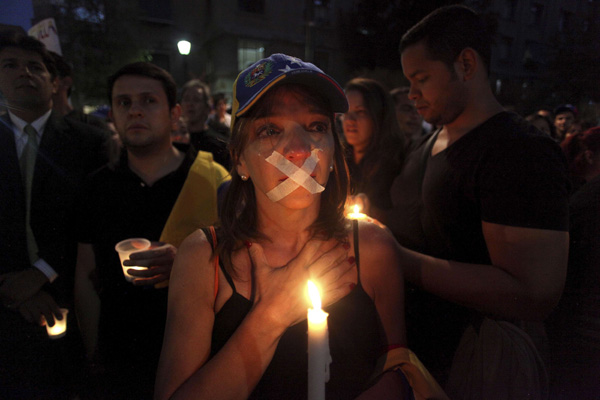 A Venezuelan woman living in Chile, whose mouth is taped, takes part in a protest against the visit of Venezuela's President Nicolas Maduro, who will attend the investiture of Chile's President-elect Michelle Bachelet in Santiago March 10, 2014. [Photo/Agencies]
CARACAS - A Chilean woman was shot dead while clearing a barricade put up by anti-government protesters, the first foreign fatality during a month of civil unrest in Venezuela, authorities said on Monday.
The death of Gisela Rubilar, 47, who was studying in the western Venezuelan city of Merida, brought to at least 21 the number of fatalities in five weeks of demonstrations against President Nicolas Maduro's government.
"She was ambushed by extreme right-wing groups ... She was vilely murdered with a shot in the eye," Alexis Ramirez, the governor of Merida state, told reporters, blaming the killing on unidentified demonstrators in the Andean city.
Students and militant opponents of Maduro have been maintaining street barricades in various cities since last month, demanding the president's resignation and solutions to problems of rampant crime and economic shortages.
The barriers have become frequent flashpoints for violence between protesters, police and government supporters.
People from both sides of the political divide, as well as members of the security forces, have been among the victims of the country's worst unrest in a decade.
Venezuelan authorities said Rubilar was a mother of four and a member of the ruling Socialist Party. A classmate said she was studying higher education, had lived in Merida for six years and worked as an artisan.
Maduro said on state television that investigations were advancing and that her killers had been identified.
"We're on their trail," he said. "Rest assured, Chile and Latin America, we are going to capture the assassins of this compatriot and they will pay for this horrendous crime."
Chilean President Sebastian Pinera said his government had asked Venezuela to provide them with all the information about the circumstances and cause of Rubilar's death.