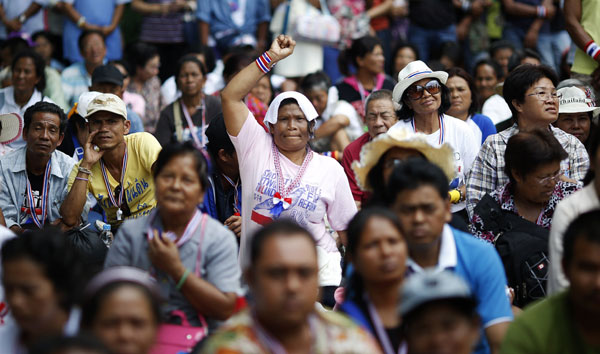 Anti-government protesters react as their leader addresses them in their encampment in central Bangkok February 25, 2014. [Photo/Agencies]
BANGKOK - An explosion and gunfire rang out near a sprawling anti-government protest site in the Thai capital early on Tuesday after the protesters' leader warned that government supporters were planning to bring armed militants to Bangkok.
Weeks of unrest, in which protesters have barricaded several Bangkok intersections, have been interrupted by occasional bombs and gunfire, with one blast killing a woman and a young brother and sister in a shopping district on Sunday.
There was another explosion and more gunfire near one protest site on the edge of Bangkok's Lumpini Park in the early hours of Tuesday, national security chief Paradorn Pattanathabutr told Reuters.
Two men were wounded, medical sources said.
"Last night, we don't know where and who it came from, but there was an explosion and the sound of gunfire from 1 a.m.," Paradorn said. "Officials will investigate the area this morning and there should be more information soon."
He also said there was an explosion near the office of the opposition Democrat Party. No one was hurt.
The protesters, whose disruption of a general election this month left Thailand in political limbo, aim to unseat caretaker Prime Minister Yingluck Shinawatra and erase the influence of her brother, former premier Thaksin Shinawatra, who is seen by many as the power behind the government.
Protest leader Suthep Thaugsuban accused Jatuporn Promphan, a leader of the "red shirt" supporters of Thaksin, and of Yingluck's government, of wanting to bring armed militants to Bangkok from their power base in the mainly rural north and northeast, setting the stage for potential conflict.
He also accused police of doing nothing about it.
"It is clear that Jatuporn wants to divide the country in two," Suthep told supporters late on Monday.