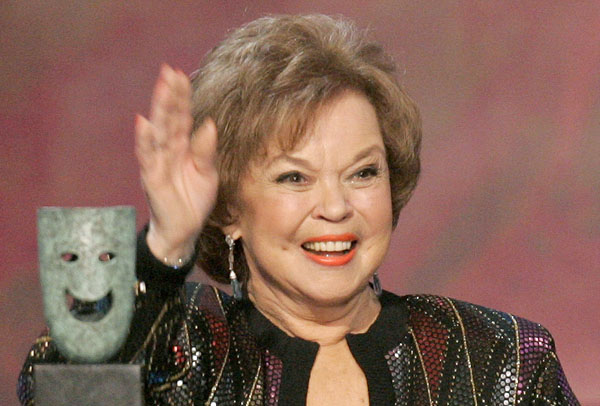 Actress Shirley Temple Black waves as she accepts the Screen Actors Guild Life Achievement Award at the 12th annual Screen Actors Guild Awards in Los Angeles, California in this January 29, 2006 file photo. Temple Black on Feb 10 at her home near San Francisco. [Photo/Agencies]
Politics and diplomacy
Temple was only 17 in 1945 when she married for the first time to John Agar, who would eventually appear with her in two movies. Their five-year marriage produced a daughter.
In 1950, she wed Charles Black. Their marriage lasted until his death in 2005, and they had two children.
Black's interest in politics was sparked in the early '50s when her husband was called back into the Navy to work in Washington.
She did volunteer work for the Republican Party while trying to make a comeback with two short-lived TV series, "Shirley Temple's Storybook" in 1959 and "The Shirley Temple Theater" a year later.
Seven years after that, she ran unsuccessfully for Congress in California but stayed in politics, helping raise more than $2 million for President Richard Nixon's 1972 re-election campaign.
She was later named to the United States' delegation to the United Nations - and found that her childhood popularity was an asset in her new career.
"Having been a film star can be very helpful on an international basis," Black once said. "Many people consider me an old friend."
Sometimes the public found it hard to accept her in diplomatic roles. But in 1989 she pointed out her 20 years in public service were more than the 19 she spent in Hollywood.
In 1974, President Gerald Ford appointed Black ambassador to Ghana. Two years later, he made her chief of protocol. For the next decade she trained newly appointment ambassadors at the request of the State Department.
In 1989, President George H.W. Bush made Black ambassador to Prague - a sensitive Eastern European post normally reserved for career diplomats. Black had been in Prague in 1968, representing a group fighting multiple sclerosis at a conference, when Soviet-bloc tanks entered to crush an era of liberalization known as the "Prague Spring."
President Gustav Husak did not seem daunted by the prospect of a US ambassador who had witnessed the invasion. He told her that he had been a fan of "Shirleyka."
In 1972, Black was diagnosed with breast cancer and underwent a mastectomy. She publicly discussed her surgery to educate women about the disease.
Black is survived by her children, Susan, Charlie Jr., and Lori, her granddaughter Teresa and her great-granddaughters Lily and Emma, the family statement said. It said private funeral arrangements were pending.