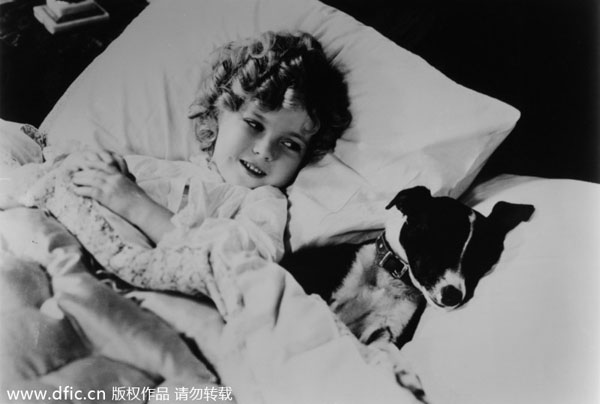 File photo of Shirley Temple [Photo/icpress.cn]
Shirley Temple Black, who lifted America's spirits as a bright-eyed, dimpled child movie star during the Great Depression and forged a second career as a US diplomat, died late on Monday evening at the age of 85.
Black, who lured millions to the movies in the 1930s, "peacefully passed away" at her Woodside, California, home from natural causes at 10:57 pm local time (0657 GMT), surrounded by her family and caregivers, her family said in a statement on Tuesday.
"We salute her for a life of remarkable achievements as an actor, as a diplomat, and most importantly as our beloved mother, grandmother, great-grandmother, and adored wife of fifty-five years," the statement said.
As actress Shirley Temple, she was precocious, bouncy and adorable with a head of curly hair, tap-dancing through songs like "On The Good Ship Lollipop."
As Ambassador Shirley Temple Black, she was soft-spoken and earnest in postings in Czechoslovakia and Ghana, out to disprove concerns that her previous career made her a diplomatic lightweight.
"I have no trouble being taken seriously as a woman and a diplomat here," Black said after her appointment as US ambassador to Ghana in 1974. "My only problems have been with Americans who, in the beginning, refused to believe I had grown up since my movies."
Tributes to Black streamed in on Tuesday following the news of her death.
The Czech government praised Black, saying she became one of the symbols of the country's newly won freedom when she served as the US ambassador in Prague from 1989 until 1992.
"With her charm and openness, she greatly contributed to the renovation of an old friendship of our countries and nations," the Czech Foreign Ministry said in a statement.
The entertainment world also mourned her death and turned to Twitter to express their sadness.
"Little Shirley Temple raised the spirits of a nation during the Great Depression. RIP," actress Mia Farrow tweeted.
Whoopi Goldberg referred to Black's signature song in her tribute to the former child star on Twitter. "The Good Ship Lollypop has sailed today with Shirley Temple aboard a true 1 of a kind," she wrote.
Actress Kristin Chenoweth praised Black as a "legendary child star and wonderful diplomat."
Black, born on April 23, 1928, started her entertainment career in the early 1930s and was famous by age 6. She became a national institution, and her raging popularity spawned look-alike dolls, dresses and dozens of other Shirley Temple novelties as she became one of the first stars to enjoy the fruits of the growing marketing mentality.
Shirley was 3 when her mother put her in dance school, where a talent scout spotted her and got her in "Baby Burlesk," a series of short movies with child actors spoofing adult movies.
Movie studio executives took notice. In 1934 she appeared in the film "Stand Up and Cheer!", and her song and dance number in "Baby Take a Bow" stole the show. Other movies in that year included "Little Miss Marker" and "Bright Eyes" - which featured her signature song "On the Good Ship Lollipop" - and in 1935 she received a special Oscar for her "outstanding contribution to screen entertainment."
She made some 40 feature films, including "The Little Colonel," "Poor Little Rich Girl," "Heidi" and "Rebecca of Sunnybrook Farm," in 10 years, starring with big-name actors like Randolph Scott, Lionel Barrymore and Jimmy Durante.
She was a superstar before the term was invented. Black said she was about 8 when adoring crowds shouting their love for her made her realize she was famous.
"I wondered why," she recalled. "I asked my mother, and she said, 'Because your films make them happy.'"
She was such a moneymaker that her mother - who would always tell her "Sparkle, Shirley!" before she appeared before an audience - and studio officials shaved a year off her age to maintain her child image.
Her child career came to an end at age 12. She tried a few roles as a teenager - including opposite future President Ronald Reagan in "That Hagen Girl" - but retired from the screen in 1949 at age 21.
The Screen Actors Guild gave her its 2005 Life Achievement Award. In her acceptance speech posted on the group's website, she said: "I have one piece of advice for those of you who want to receive the Lifetime Achievement Award: Start early!"