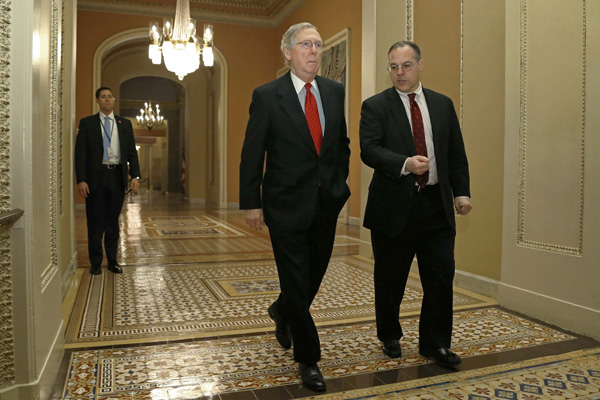 US Senate Minority Leader Mitch McConnell (C) walks to the Senate floor for a vote on a $1.1 trillion US spending bill at the US Capitol in Washington, January 16, 2014. [Photo/Agencies]
WASHINGTON - Washington's battles over government funding ended with a whimper on Thursday as the US Senate approved a $1.1 trillion spending bill that quells for nearly nine months the threat of another federal agency shutdown.
The measure, which funds thousands of government programs from the military to national parks through the September 30 fiscal year-end, passed on a strong, 72-26 bipartisan vote. President Barack Obama is expected to sign it into law by Saturday.
The vote came exactly three months after the end of a 16-day government shutdown in October that was waged over disputed funding of "Obamacare," the president's signature health care law.
"We're a little late, but we have gotten the job done," Senate Appropriations Committee Barbara Mikulski said on the Senate floor.
The fiscal focus in Congress now turns to debate over another boost in the $17 trillion federal debt limit. An increase could be needed in as little as six weeks.
Republicans have not said what they will demand in return for lifting the borrowing cap, but House Speaker John Boehner signaled to reporters on Thursday that he has little desire for a massive fight that threatens a damaging US debt default.
The United States "shouldn't even get close to it," he told reporters, calling for quick action on a bill to increase the limit.