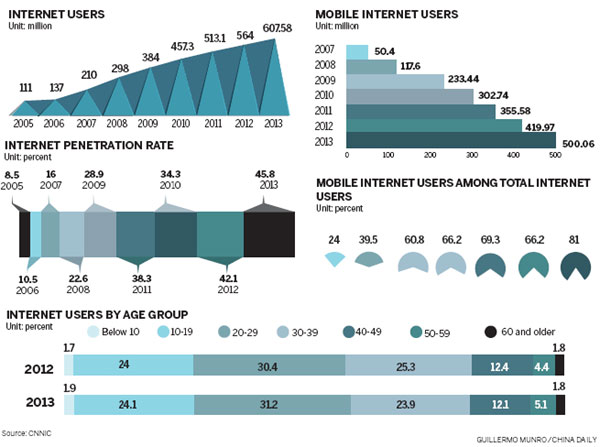 Mobile Internet users in China hit 500 million at the end of last year amid a growing preponderance of smartphones, an industry report said on Thursday.
The nation added roughly 80 million mobile netizens in 2013, and more than 80 percent of Chinese Internet users are using smartphones to log onto the World Wide Web, said the China Internet Network Information Center, a government-backed industry administrative body.
The total number of Web users in China stood at 618 million at the end of December, a 9.5 percent increase over the year before, CNNIC said.
The growing number of smartphone owners also has driven a rapid rise in video, music and instant messaging applications over the past year, said Liu Bing, deputy director at CNNIC.
Nearly 250 million netizens in the country are either watching video content or downloading it using their smartphones, a surge of 83.8 percent year-on-year.
With the fourth-generation telecom network in place, apps that used high data volume such as online video and gaming will flourish in the next few years, according to Liu.
Analysts said that as more youngsters and rural residents connect to the Web using smartphones, the devices will drive China's Internet expansion.
Research firm Canalys estimated that by 2017, close to 95 percent of mobile phones sold in China will be smart devices.
China became the world's biggest smartphone market in terms of shipment in 2011.
Falling prices of smartphones also will spur an increase in their penetration rate, said Chris Jones, principal analyst at Canalys.
"The sizzling popularity of smartphones is changing the way people consume data on the Internet," Liu said.
He pointed to the fact that once-popular Internet services designed for personal computers have experienced a decline due to the wider use of mobile apps.
Nearly 28 million netizens stopped using micro blogs in China over the past year, the first drop in user numbers ever recorded, said CNNIC.
Micro blogs, or Weibo, faced powerful challenges from such smartphone-based instant messaging applications as WeChat.
"People who were active on both platforms started abandoning their Weibo accounts in 2013," Liu said.
China had about 280 million Weibo users last year, while WeChat claimed to have 600 million users globally.
The top Weibo apps in the nation lost nearly 6 million users in the past year, said the report.
Other social networking websites from the PC era also faced a "substantial" loss in user numbers last year, it added. The lack of a well- functioning business model was the major reason for these short-lived services.
"New services are coming out so fast that most services cannot survive a four-year lifecycle, although they could accumulate large user numbers in a very short time," said Liu.
Young smartphone users also find it easier to adopt new Web features. More than 55 percent of Chinese netizens were under 30 years old, CNNIC reported.
In a related development, online shopping will continue to heat up in 2014, as smartphone-powered payments and more location-based services go into commercial use, the report predicted.
In 2013, China overtook the United States to become the world's largest e-commerce market in terms of transaction volume, said Cai Yudong, deputy chief of the e-commerce and information technology bureau under the Commerce Ministry.
"Deep cooperation between online and offline retailers indicates e-commerce is becoming an irreplaceable marketplace for Chinese customers," he said.
Purchases made on mobile devices will give businesses the most momentum in 2014, said CNNIC.
More brick-and-mortar stores will encourage the use of new technologies such as shopping guide apps and two-dimensional codes for users to scan, said Liu.
"One in five online shoppers said they like mobile purchases better than placing orders on a PC. More people will be in favor of mobile shopping in the future because retailers want more traffic generated from smartphones," he said.