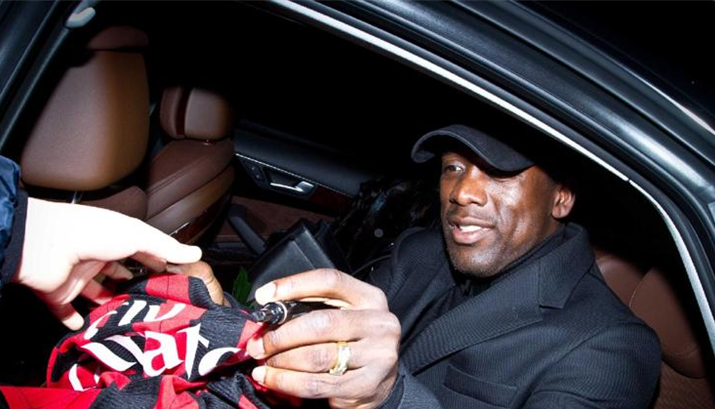 Clarence Seedorf signs an AC Milan jersey upon his arrival at Linate's airport, in Milan, Italy, Wednesday, Jan. 15, 2014.
  [Photo/Agencies]
MILAN - Clarence Seedorf vowed to take AC Milan back to the top of the world after arriving at Milan on Wednesday to fill the vacancy left by Massimiliano Allegri.
The Dutchman was not worried by the difficult situation the Milan are facing as they are struggling in the Serie A with 30 points adrift of the leaders Juventus.
"I am happy to be here, even if unfortunately Milan are not in the best moment," Seedorf said.
"I will do everything to take Milan back to the top of the world. I feel at home here and hope to inspire the team with my great enthusiasm. I can't wait to get started. We want to turn the situation around straight away to make the fans happy," he said.
Seedorf went from the airport to San Siro to watch the second half of a Coppa Italia match which Milan won 3-1 over Spezia. From Thursday, he will take charge of the team's training sessions.
"At this moment I feel emotion and also a sense of duty," he told Milan Channel. "I left Milan in May 2012 at the end of an era. My job now will be to open another era."