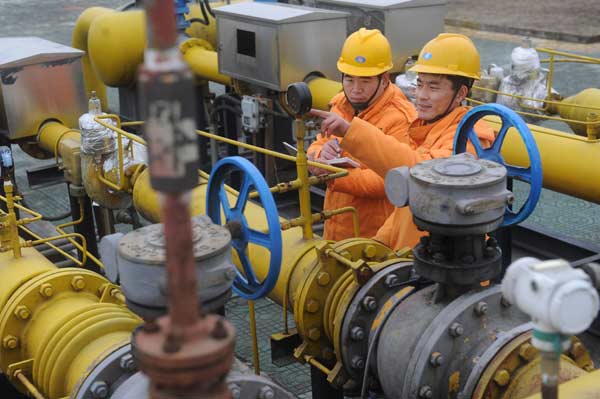 Safety inspectors check the pressure of a natural gas supply facility in Fuyang, Anhui province. China's natural gas use increased by 13.9 percent to 167.6 billion cubic meters last year. The amount is expected to hit 186 billion cu m this year.WANG BIAO / FOR CHINA DAILY
Demand grows due to battle against effects of higher levels of air pollution
China's dependency on imported natural gas is expected to surge almost 19 percent this year as the nation's battle against air pollution drives up demand for the clean-burning fuel.
The nation's reliance on overseas gas exceeded 30 percent for the first time last year, according to a report released by CNPC Economics and Technology Research Institute on Wednesday.
Dai Jiaquan, deputy head of the institute, estimated that China's GDP growth will be about 7.5 percent in 2014, which will mean a stable rate of expansion in energy use.
"The volume of imported gas experienced a marked increase last year, rising 25 percent to 53 billion cubic meters. Pipeline gas accounted for 52.8 percent or 28 billion cubic meters and liquefied natural gas accounted for the rest," said Duan Zhaofang, a natural gas expert at the institute.
The report estimated that China's gas imports will grow 18.9 percent this year to 63 billion cu m.
"Compared with the slight growth of 2.3 percent in global natural gas demand in 2013, China's gas demand has been increasing at a rapid pace, pushing the country to become the world's third-largest gas user," said Duan.
The nation's gas use increased 13.9 percent to 167.6 billion cu m last year, according to the report.
Duan estimated that gas consumption in 2014 will reach 186 billion cu m, which would be a rise of 11 percent.
"Notably, the percentage of natural gas consumption in the primary energy mixture grew from 5.4 percent in 2012 to 5.9 percent in 2013, as the country has been dealing with air pollution and accelerating the construction of coal gas projects to increase domestic gas production," said Duan.
She estimated that the proportion will rise in 2014 to 6.3 percent.
More Chinese cities are switching from coal to natural gas to fight smog.