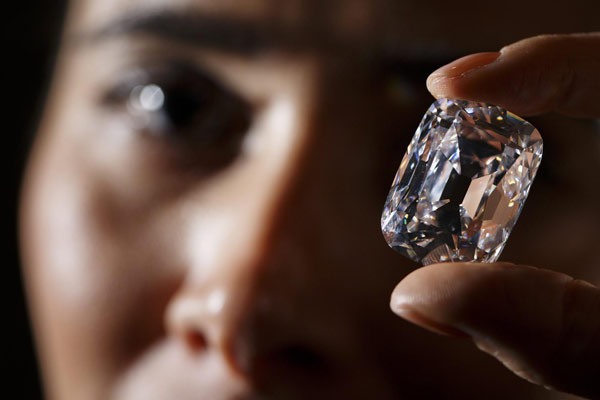 An employee poses with the Archduke Joseph diamond during an auction preview at Christie's in Geneva November 8, 2012.[Photo/Agencies] 
SHANGHAI - Trade through the Shanghai Diamond Exchange rose 12 percent to $4.3 billion in 2013, according to the exchange on Thursday.
About 80 million carats changed hands through the exchange in 2013, up 6.8 percent from the previous year.
The diamond trade in China suffered a drastic decline in 2012 but has recovered somewhat in 2013 as domestic diamond consumption picked up and customs cracked down on smuggling.
The exchange in Jinmao Plaza, a landmark in Shanghai's Pudong District, was founded in October 2000 and is the only venue in China authorized by the State Council to handle diamond imports and exports and to conduct trade.
As a member of the World Federation of Diamond Bourses, the exchange saw its membership grow to 364 by the end of 2013.