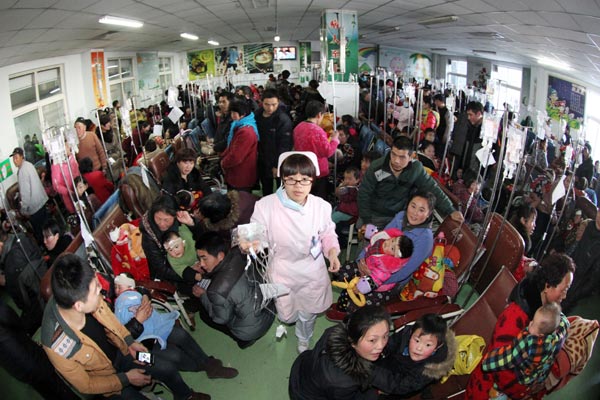 People crowd into the infusion hall of the People's Hospital in Ganyu County, Jiangsu province, on Jan 4. Si Wei / for China Daily
Future medical bills get top priority among Chinese savers, nearly half of whom are also actively saving for their children's futures, according to a report released on Thursday by research firm Nielsen Holdings NV.
The Nielsen Global Survey of Saving and Investment Strategies polled more than 30,000 Internet respondents in 60 countries to evaluate how consumers prepare for current and future expenses.
When it comes to medical care, the percentage of global respondents who are already saving is much higher than the portion who plan to save in the future.
In China, the gap is particularly huge, with 64 percent actively saving for health issues, compared with 34 percent who plan to save in the future.
"The 30-percentage-point gap between active savers and future savers for health issues indicates the strong and growing willingness of Chinese consumers to invest now to keep healthy," said Kevin Wang, director of Nielsen China.
Wang added that some of the funds accumulated through saving for health issues will likely be diverted from paying for huge medical bills to spending more on products and services, which also will boost China's health and consumption market.
Respondents in China are likely to employ diversified strategies in saving for health issues, with local currency, whole life insurance and pure term life insurance among the choices.
"Saving up for better health care is [a natural goal] as we all want to stay healthy and live longer, especially after we've made enough money," said Chen Quan, 52, a book retailer in Shanghai. He said that more middle-aged Chinese have been spending much more money on preventive health care, as well as life insurance.