Health care special: Jia Yue Eye Surgery Center: LASIK changes the way people see
A Singapore-headquartered eye surgery center is aiming to help curb the rising nearsighted population in Beijing.
"We are holding a series of awareness-raising events and offering first-class medical solutions," said Ann Xiong, medical director at Jia Yue Eye Surgery Center, Singapore Medical Group's only outlet on the Chinese mainland.
China is estimated to have 400 million nearsighted people, with the majority in large cities. As computers and other electronic gadgets become a part of everyday life, the nearsighted population is getting younger and younger, said Xiong.
A survey by the Ministry of Education and the National Health and Family Planning Commission shows that a quarter of primary school students are nearsighted.
The figure for junior high school is 70 percent and an astonishing 85 percent among senior high school students.
While most tend to choose glasses or contact lenses, Xiong said there is actually a better option readily available for those over 18, especially people who want to enroll in military service or choose majors or professions in industries such as aviation and firefighting.
Jia Yue offers laser refractive eye surgery, the same process used by NASA for astronauts who are nearsighted, farsighted or have astigmatism, said Xiong. The surgery, commonly known as LASIK, changes the shape of the cornea using a laser to remove tissue in the corneal stroma.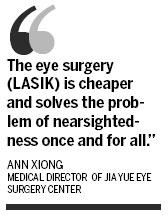 Xiong added that her clinic is the first and only in Beijing using the latest equipment, known as an iFS150 Hz femtosecond laser.
"Now it takes just 10 seconds to create the corneal flap, half the time its predecessor required. More importantly, the corneal flap is much smoother, ensuring better corrective results," she added.
Xiong said the whole operation lasts 15 minutes and is pain-free, adding those who receive the operation need just one day of rest before they can resume their work or school life.
In addition to corrective results, laser refractive eye surgery is a better solution even economically, said Xiong.
"If you take into consideration the cost of changing frames, lenses and contact lenses throughout your life, you will find that the eye surgery is cheaper and solves the problem of nearsightedness once and for all."
To celebrate the upcoming National Day holiday, Jia Yue now offers a 30 percent discount on LASIK, hoping to help more nearsighted people, Xiong said.
Xiong has been in the profession for 20 years since her graduation from Shanghai's Tongji University in 1993.
In 2006, she studied laser vision correction in the United States.
Xiong is also an expert at implantable contact lens surgery, known as ICL, and treatment for other common eye problems.
lifusheng@chinadaily.com.cn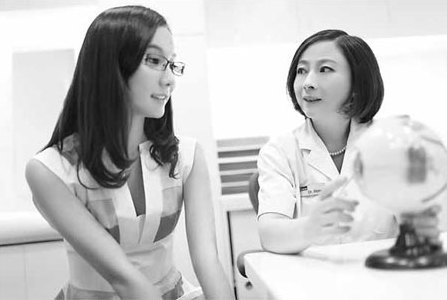 Ann Xiong (right), medical director of Jia Yue Eye Surgery Center, answers questions from a patient. Provided to China Daily

(China Daily 09/23/2013 page11)
Today's Top News
Editor's picks
Most Viewed