Britain 'very open' to overseas investment
By Cecily Liu in London ( China Daily )
Updated: 2013-12-02 07:26:48
A high-level openness to foreign investment is a key factor in making the United Kingdom attractive for Chinese investment, said Nick Baird, CEO of UK Trade and Investment, in a recent interview with China Daily.
"I think it's highly unlikely that any other developed countries would be as open to investments, not just from China, but more generally, as we are," said Baird, who heads the British government agency that looks after inbound investments.
Baird said the level of existing Chinese investment in the UK's infrastructure is a demonstration of the UK's openness because such sectors tend to be strategically important to the country.
For example, Cheung Kong Infrastructure Holdings, an investment vehicle controlled by Hong Kong billionaire Li Ka-shing, bought the UK's Northumbrian Water in 2011. In 2012, China Investment Corp, China's sovereign wealth fund, bought a 10 percent stake in Heathrow Airport Holdings and an 8.68 percent stake in Thames Water.
More recently, British Chancellor of the Exchequer George Osborne announced during his China visit in October that the UK will allow Chinese companies to take majority stakes in British nuclear power plants.
The statement was made in response to previous speculation that the British government will not allow Chinese companies a majority stake in the French company EDF's planned power station at Hinkley Point, in southwest England, for national security reasons.
"We are happy to involve Chinese companies in all aspects of our economy. So investing in Britain's nuclear industry is a good example, because you can't get any more sensitive than that," Baird said.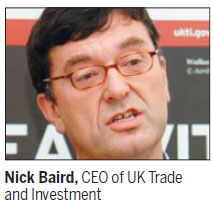 Another example given by Baird is the investment of Chinese telecommunications giant Huawei Technologies in the UK, which has not yet experienced any obstruction on the part of the British government.
In September 2012, Huawei announced 1.3 billion pounds ($2.1 billion) of additional investment in growing its UK business over a five-year period to 2017, creating up to 700 new jobs.
"Huawei is a very welcome investor in the UK. We are confident about the investments we have with Huawei, and we are looking forward to them growing their investments even further," said Baird.
In comparison, Huawei was barred from conducting any US mergers and acquisitions after a US House Intelligence Committee report in 2012 warned that the company poses a security threat to the US.
The UKTI head is glad to have witnessed many first-of-their-kind investments lately.
For example, the Chinese fashion retailer Bosideng became the first Chinese fashion brand to open a flagship store in London, and Dalian Wanda became the first Chinese company to operate in the luxury industry after acquiring British yacht company Sunseeker.
He said Chinese investment into the UK helps the British economy a great deal, bringing capital to help develop British industries that are struggling for investment.
The nuclear power industry is a good example, said Baird, because the British government has struggled to attract investment into Hinkley Point for years, and the potential Chinese investment will certainly create many local jobs.
The British government is also welcoming Chinese acquisitions in the UK because such deals normally help local British companies expand through investment into research and development, explained Baird.
"The (British) companies are quite successful, but can't get investment to grow faster, because R&D involves upfront costs, so smaller companies find it difficult to invest in R&D," he said.
About 40 percent of the British infrastructure sector and the majority of its automotive industry is owned by foreign investors, he said, but the British government does not mind because it welcomes all investment that helps to grow the local economy.
Going forward, Baird said he sees enormous potential for Chinese investment in the UK's pharmaceutical, life sciences, film, media and fashion sectors. He said these are all sectors in which the UK has expertise, and China is experiencing a growing domestic demand.
The UK has excellent R&D skills and a number of science parks with tax incentives for foreign investment, such as the science parks affiliated with the University of Oxford and the University of Cambridge, said Baird, who is a graduate of Cambridge.

Outbound ventures
China, long a favored destination for inward investment, may soon see the position reversed.