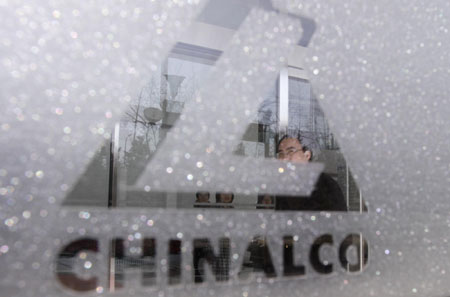 An employee of Aluminum Corp of China walks inside the company's headquarters in Beijing. [File photo/Agencies]
BEIJING - The Aluminum Corporation of China Ltd. (Chalco), the listed arm of the country's largest maker of lightweight metal, said it made net profits of 948 million yuan ($154.87 million) in 2013, reversing heavy losses in 2012.
Total revenues last year hit 173.04 billion yuan, up 16 percent year-on-year, according to the company's unaudited annual business report filed with the Shanghai Stock Exchange on Saturday.
The company attributed the loss-to-profit transition to better management and control over spending as well as capital operations.
It also said a reduction in costs in the production of aluminium oxide and aluminium electrolyte attributed 530 million yuan of profits.