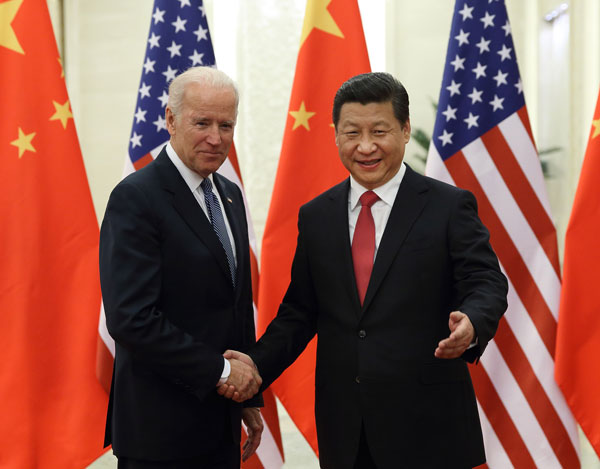 Chinese President Xi Jinping shakes hands with US Vice-President Joe Biden inside the Great Hall of the People in Beijing, Dec 4, 2013. [Photo/Xinhua]
WASHINGTON - The United States must build stronger military-to-military ties with China despite their differences on issues such as China's recent establishment of an air defense identification zone (ADIZ) over the East China Sea, said US Chairman of the Joint Chiefs of Staff Martin Dempsey on Thursday.
"So as the dynamics in the region continue to change, we must build stronger military-to-military relationships with the (Chinese military). We must seek avenues and mechanisms to avoid miscalculation," Dempsey said in answering questions while hosting his first town hall on Facebook.
While reiterating that the United States does not recognize the ADIZ and US military aircraft will continue to fly in the area, Dempsey admitted that he understood why China took the act to establish the ADIZ over the East China Sea.
"From a realist perspective, nations will act in their interests all the time. China is no different," the top US military officer said, hoping the dispute will be solved peacefully.
The top US military officer added that he would contact his Chinese counterpart in the coming days to discuss the ADIZ issue.
China on Wednesday urged the United States to respect its establishment of the ADIZ with an objective and fair attitude.
According to Foreign Ministry Spokesman Hong Lei, Chinese President Xi Jinping reiterated China's principled position on the ADIZ during talks with visiting US Vice-President Joe Biden.
During Wednesday's talks, the Chinese side stressed that the move is in line with international law and practices, and the US side should take an objective and fair attitude to respect the establishment of the air zone, Hong said in a written press release on Thursday.
China announced on November 23 the establishment of the ADIZ over the East China Sea in a move to defend its territorial and airspace security, as well as safeguard flight order and security in the air. This move has triggered strong reactions from Japan and the United States, which called it a unilateral move to change the status quo.
China has vehemently dismissed the accusations as unjustified and biased, citing that the establishment of its ADIZ conforms to international law and practices as many countries, including the United States and Japan, have already done so.