When it came to sport, Nelson Mandela had the ability to inspire even inspirational figures and leave global stars completely star-struck.
The former South African president, Nobel Peace Prize winner and anti-apartheid leader died Thursday at the age of 95, leading to a vast outpouring of tributes from the world's best-known athletes and top sporting bodies.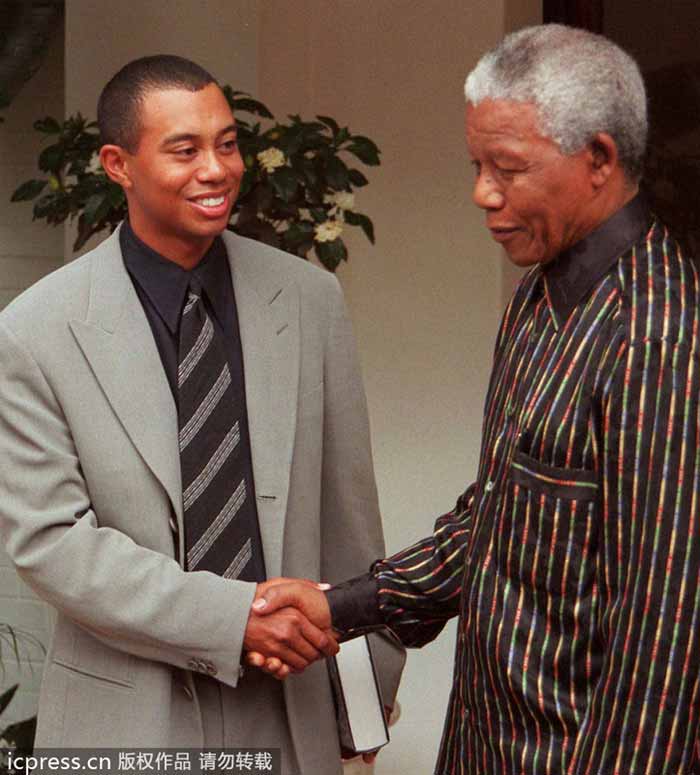 United States golfer Tiger Woods, left, meets with South African President Nelson Mandela, right, Monday Nov. 30,1998 in Johannesburg, South Africa.  [Photo/icpress.cn]
"It's sad for everyone who got a chance to not only meet him, but I've been influenced by him," golfer Tiger Woods said. "I got a chance to meet him with my father back in '98. He invited us to his home, and it was one of the most inspiring times I've ever had in my life."
Boxing great Muhammad Ali, himself a role model for so many, said Mandela inspired others to "reach for what appeared to be impossible."
"What I will remember most about Mr. Mandela is that he was a man whose heart, soul and spirit could not be contained or restrained by racial and economic injustices, metal bars or the burden of hate and revenge," Ali said in a statement through his foundation.
The NBA's LeBron James said: "In his 95 years, he was able to do unbelievable things not only for South Africa but for the whole world. What he meant to this world while he was able to be here is everything."
As much as sportsmen and women loved Mandela, he in turn loved sport and appreciated its enormous potential to do good. Nowhere more than in his own country, where he famously used the 1995 Rugby World Cup to knock down the last barriers of apartheid.
"A remarkable man who understood that sport could build bridges, break down walls, and reveal our common humanity," International Olympic Committee President Thomas Bach said in a statement to The Associated Press, calling Mandela "a true statesman."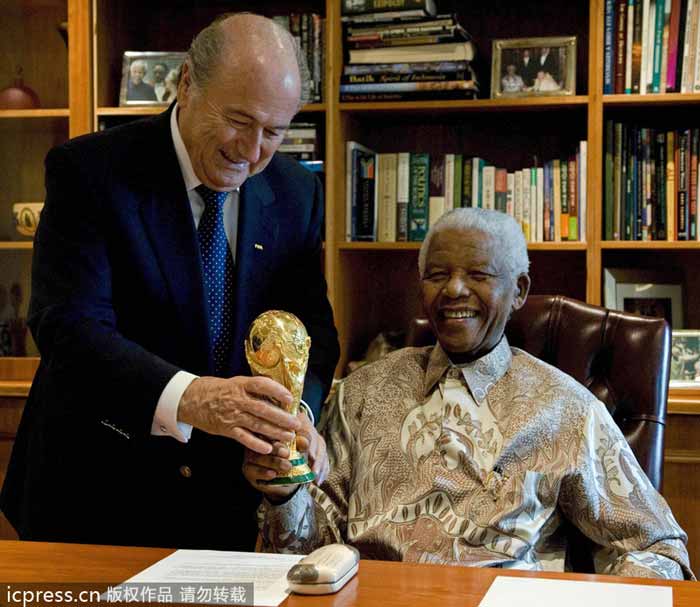 This released by the Nelson Mandela Foundation shows FIFA President Sepp Blatter, left, with former South President Nelson Mandela, right, holding a replica of the the World Cup Soccer Trophy during a brief meeting in Johannesburg, South Africa, Tuesday Sept. 16, 2008.  [Photo/icpress.cn]
FIFA president Sepp Blatter said he and world football were in mourning at Mandela's passing and ordered that the 209 flags of the world body's member countries at FIFA headquarters in Switzerland be flown at half-staff.
"It is in deep mourning that I pay my respects to an extraordinary person, probably one of the greatest humanists of our time and a dear friend of mine: Nelson Rolihlahla Mandela," Blatter said.