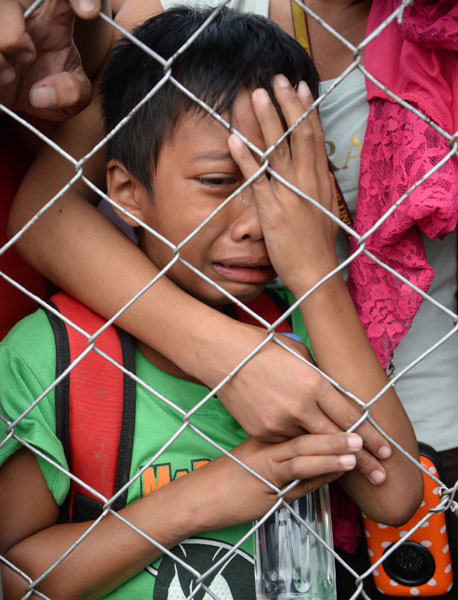 A child cries as residents beg authorities for seats on flights on military C-130 planes out of the airport in Tacloban, located in central Philippines, on Wednesday, days after super Typhoon Haiyan devastated the city. Ted Aljibe / Agence France-Presse
Philippine President Benigno Aquino was under growing pressure on Thursday to speed up the distribution of food, water and medicine to desperate survivors of a super typhoon as a US aircraft carrier "strike group" arrived to get supplies moving.
While international relief efforts have picked up, many petrol station owners whose businesses were spared have refused to reopen, leaving little fuel for trucks needed to move supplies and medical teams around the devastated areas nearly a week after Typhoon Haiyan struck.
"There are still bodies on the road," said Alfred Romualdez, mayor of Tacloban, a city of 220,000 people reduced to rubble in worst-hit Leyte province. "It's scary. There is a request from a community to come and collect bodies. They say it's five or 10. When we get there, it's 40."
The scarcity of trucks presents grim options. "The choice is to use the same truck either to distribute food or collect bodies," he added.
China meanwhile on Thursday announced a further $1.64 million in aid.
Chinese Foreign Ministry spokesman Qin Gang said that China had donated thousands of tents and blankets, putting the value at 10 million yuan ($1.64 million), adding that the aid level would continue to be "changed and adjusted" depending on need.
Outside Tacloban, burials began for about 300 bodies in a mass grave on Thursday. A larger grave will be dug for 1,000, said city administrator Tecson John Lim.
The city government remains paralyzed, with just 70 workers compared to 2,500 normally, he added. Many were killed, injured, lost family or were simply too overcome with grief to work.
The government was distributing 50,000 food packs containing 6 kg of rice and canned goods each day, but that covers just 3 percent of the 1.73 million families affected by the typhoon.
The US navy said on Thursday that its aircraft carrier the USS George Washington had arrived in the Philippines to aid in the emergency relief operation.
It "will go to a position just off the eastern coast of Samar island in order to begin to assess the damage and provide logistical and emergency support to include medical and water supplies", the carrier's commander, Rear Admiral Mark Montgomery, said.
"One of the best capabilities the strike group brings is our 21 helicopters," Montgomery said in a statement. "These helicopters represent a good deal of lift to move emergency supplies around."
Aquino has been on the defensive over his handling of the storm given warnings of its projected strength and the risk of a storm surge, and now the pace of relief efforts.
He has said the death toll might have been higher had it not been for the evacuation of people and the readying of relief supplies, but survivors from worst-affected areas say they had little warning of a tsunami-like wall of water.
The Philippines formally asked Washington for help on Saturday, a day after the storm slammed into cities and towns in the central Philippines, the US State Department said.
Aquino has also stoked debate over the extent of the casualties, citing a much lower death toll than the 10,000 estimated by local authorities. Official confirmed deaths stood at 2,357 on Thursday, a figure aid workers expect to rise.
Reuters-AFP