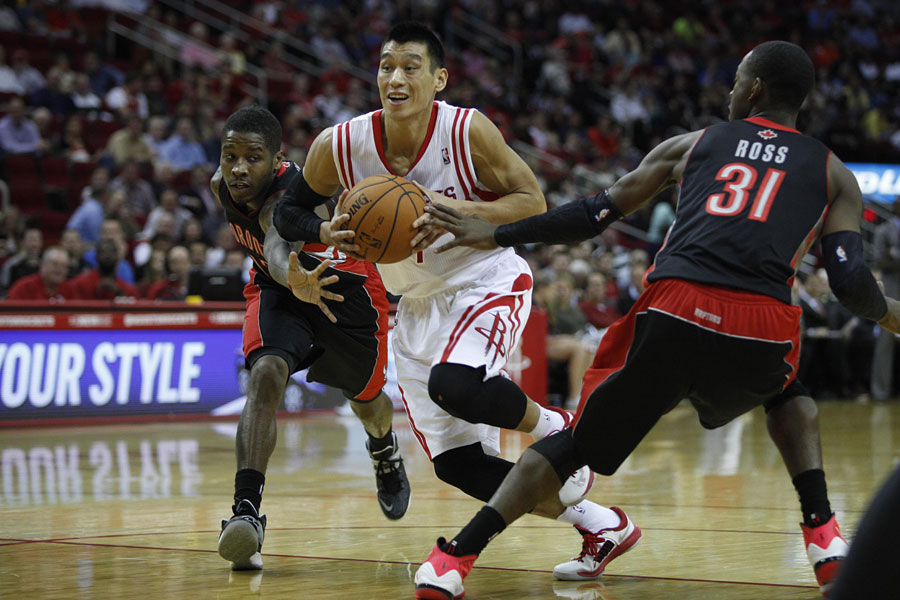 Houston Rockets point guard Jeremy Lin (7) dribbles the ball during the second quarter against the Toronto Raptors at Toyota Center, Houston, Nov 11, 2013. [Photo/Agencies]
HOUSTON - The Houston Rockets managed to snap a two-game losing streak by outlasting the Toronto Raptors 110-104 in two overtimes at their NBA game at the Toyota Center on Monday.
The Rockets' victory didn't come beautiful as the team was dragged into two more five-minute play. Houston could have won the game in the first overtime but a confusing strategy gave the Raptors chance to bury a 3-pointer in the last seconds. The Rockets didn't make the same mistake in the second overtime, edging out Toronto.
Jeremy Lin led the Rockets with 31 points off the bench, making his new season high. He shot 10 of 17 from the field and hit 8 of 9 from the free throw line.
James Harden scored 26 points. Chandler Parsons had 18 points, five rebounds and five assists. Dwight Howard grabbed 18 points and 24 rebounds, but he was just 4 of 12 in free throw.
The Rockets put on their best defensive performance of the season, holding the Raptors to 34.2 percent shooting from the field.
Rudy Gay led the Raptors with 29 points and 10 rebounds. DeMar DeRozan added 22 points. Jonas Valanciunas had 10 points and 13 rebounds. Amir Johnson had 10 points and 10 boards, and Kyle Lowry netted 16 for Toronto.
With the win, the Rockets improved to 5-3 the season and broke a two-game losing streak.