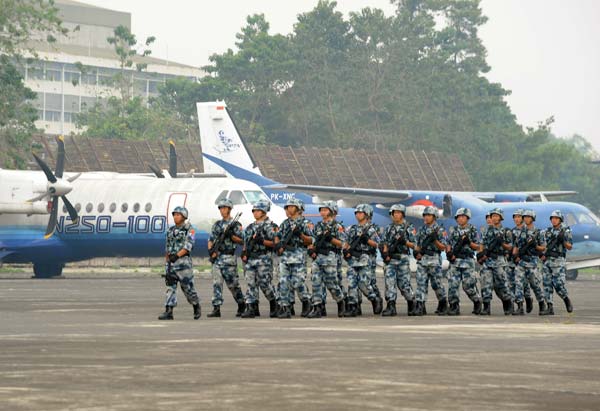 Chinese paratroopers take part in a training exercise on Monday during a joint anti-terrorism drill called "Sharp Knife Airborne 2013". The Chinese squad trained with Indonesian paratroopers in Bandung, capital of West Java province, Indonesia. During the weeklong drill, both teams participated in landings, hand-to-hand combat, firing exercises, obstacle courses and anti-terrorist search and rescue operations. [Jiang Fan / Xinhua ]

Exercises with three other countries seen as small steps toward building mutual trust
A series of military exercises between China, the United States, India and Indonesia this week demonstrate that the Chinese military wants to expand cooperation with foreign countries and build a more transparent image, experts said.
On Wednesday, China and the United States continued their disaster relief exercise in Hawaii, while China and India held joint anti-terrorism drills in Sichuan province. Two days earlier, China and Indonesia concluded their weeklong anti-terrorism drill in Bandung.
"Under its new leadership, China is more eager and active with its military, which foreign countries used to regard as 'mysterious'," said Li Qinggong, deputy secretary-general of the China Council for National Security Policy Studies.
"These joint military exercises hold considerable political weight because Beijing hopes to deepen mutual trust with foreign countries with these drills and remove their worries about the rise of China," Li said.
Wang Baofu, a professor of military strategy with the National Defense University of China's People's Liberation Army, said, "The drills are symbols of deepened mutual trust among all sides."
The drill in Hawaii focused on disaster relief operations that require cooperation between the Chinese and the US militaries in a third country, reported the Associated Press. It marks the first time that Chinese soldiers have participated in a military drill in US territory.
China sent 60 soldiers and observers to the exercise in Hawaii while the US sent 50 participants, which include soldiers and civilians from the US Army Pacific, the Hawaii Army National Guard, the Army Corps of Engineers and the Federal Emergency Management Agency.
"Although the scale of the drill was not large, it can still contribute to a building of mutual trust between the two countries," Li said.
The US has in the past year increased its military presence in the Asia-Pacific region, which Chinese experts said has added more uncertainties to the region.
"We have seen the number of military exchanges between China and the US increase this year. That is an implementation of a strategy from both countries to build more mutual trust," Wang said.
"The military exchanges are a good step for both sides."
On Wednesday, the Chinese and Indian armies ended their nine-day joint anti-terrorism training session with a military drill named "Hand-in-Hand 2013" in Sichuan province of southwest China.
The joint exercise included a demonstration of weapons, exchange of tactics and training in the arrest of suspects and in the rescue of hostages.
The drill was launched on Nov 5 in Emeishan. Each country sent a company of 144 soldiers. It was the third joint military exercise between China and India. The two countries conducted their first joint anti-terror training in Yunnan province in 2007. Their most recent exercise was carried out in Belgaum, India, in 2008.
"Anti-terrorism is a common challenge for the two countries as well as all regional players. Joint exercises in this field can help better combat this challenge and therefore stabilize the situation in Southeast Asia," Wang said.
Huang Zhiling in Sichuan province and Xinhua contributed to this story.