Momo now with 80m users, not losing money
Updated: 2013-11-13 16:59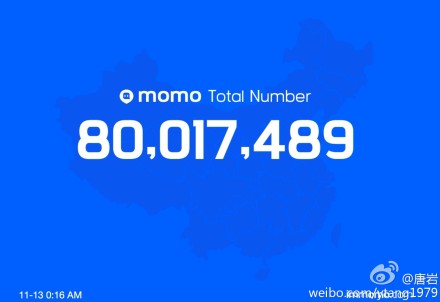 A picture that posted on
Sina
Weibo by Tang Yan, the founder of Momo shows Momo has registered 80 million users by Nov 13, 2013. [Photo / technode.com]
Momo, one of the most popular location-based social apps on the Chinese mainland, has registered 80 million users after two years and three months since its launch, the founder, Tang Yan, disclosed with a Sina Weibo post. Daily active users number is 13 million and there are 39 million monthly active users. An average of 500 million messages are generated daily during one-on-one conversations or group chatting.
It seems the user growth accelerated this year when the company announced it had reached the 30 million members' milestone in March and 50 million in July. Momo also has an English version and had about 1.7 million users outside of China in late 2012.
Tang said in his post that Momo is not losing money anymore. The company began monetization in the middle of this year with a sticker shop and membership subscription. Recently it launched a mobile game platform and introduced the first third-party mobile game. Tang disclosed that the game had two million downloads in the first week on the Momo platform.
The company raised $2.5 million in funding from Matrix Partners in 2011 and $40 million in Series B from Alibaba Group, DST and Matrix Partners in August 2012.
Don't miss:
Sina may launch new social communication product
Guanxi suffers from social networking
Class-skipping app vs roll-calling system
App urges users to turn off phones and sleep 
More Chinese design trips by smartphone apps
Alibaba launches mobile chat app