WeMeet (Weimi in Chinese) is Sina's answer to WeChat. It's developed by Hangzhou Kuyue Tech which Sina invested in.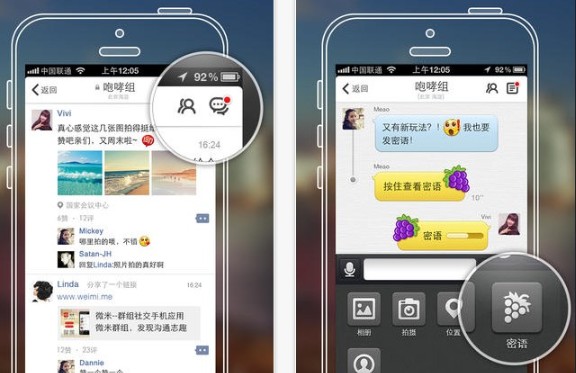 Group chatting (left) & Snapchat feature on WeMeet [Photo / technode.com]
It is what Charles Chao, CEO of Sina, referred to when being interviewed by Financial Times. According to Chao, the social app, allowing users to chat, subscribe to news and other forms of content, share pictures, etc, is focused on group messaging.
Users can import contacts from Sina Weibo and mobile address book.
There are dozens of interest-based public groups for users to join. Users also can set up private groups. Group chatting supports audio, text and location sharing.
A Snapchat-like feature is included that messages shared in a group will disappear in 3 seconds after having been read and vanish from the group in 24 hours.

Last week, China Telecom and Netease jointly launched their challenger to WeChat, Yixin. What Yinxin differentiates from WeChat is it enables sending voice messages to mobiles and landlines.
In late 2011, when Chinese Internet companies, Xiaomi, Qihoo, Tencent, were busy competing in mobile voice messaging market, Sina also developed one, Weiyou. The number of Weiyou users wasn't disclosed. It's not widely adopted in China.
Tracey Xiang is a Beijing-based tech reporter. Contact the writer at tracey@technode.com
Don't miss:
Sina may launch new social communication product
China Telecom, Netease jointly launch mobile chat app